Faces of Metro EDGE (F.A.M.E. for short) is a quick interview where we introduce you to fellow EDGErs and give you a glimpse into their professional lives and personalities. Anna works for the UC Davis Graduate School of Management (the presenting sponsor for Metro EDGE). She is a new member of Metro EDGE and currently serves on the Emerge Summit committee. Reach out and say hi!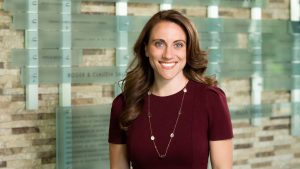 Where do you currently work? How long have you been there? What do you do?
I am thrilled to be the Associate Director of Admissions for the Sacramento part-time MBA program at the UC Davis Graduate School of Management—Go Aggies! I have been in this role for a couple of months now, and enjoy the fast paced, dynamic work environment. Our fantastic admissions team is responsible for annually recruiting top professionals in the Sacramento region for the UC Davis Sacramento part-time MBA. In addition to meeting one-on-one with prospective students, I manage partnerships with corporations and professional groups to bring them value and opportunities for developing talent.
Prior to that?
My background is in business development, relationship management, marketing and public relations. Before joining the UC Davis team, I was a development director focused on new business at a national health-related non-profit. I have also held roles in the public sector working to meet the business needs of California's special districts. Special districts are specialized types of local government that provide municipal services like water or fire protection to residents. One of my favorite jobs was working for the United States Olympic Committee on the marketing team during the Beijing 2008 Summer Olympic Games, the Vancouver 2010 Winter Olympic Games and the London 2012 Summer Olympic Games.
What is your educational background?
I'm an alumna of the program I represent today: the UC Davis Sacramento MBA program. I earned a B.A. in psychology with a minor in Spanish literature at the University of Colorado, Colorado Springs. My international academic experience includes studies in Alicante, Spain, where I completed my Spanish degree coursework, and Lappeenranta, Finland, where I was chosen to do an international summer business exchange program with students worldwide.
What is the best part of your job?
The opportunity to meet new generations of emerging leaders. It is rewarding to assist professionals in our region pursuing their higher education and professional goals. I enjoy consulting and connecting with students looking at the next steps in their career. The students in the Sacramento MBA program come from diverse experiences, ethnicities and backgrounds. I enjoy building relationships and sharing the value of the MBA with the prospective students and companies.
What do you love about living in Sacramento?
Sacramento is a great place to live because of the comfortable lifestyle in a metropolitan area. I appreciate that it has constant action buzzing around the State Capitol in downtown Sacramento since it is the seat for the state legislature and government. Midtown has walkable restaurants canopied in beautiful old Modesto Ash trees. I like being able to ride my bike along the river at sunset after work in the summer, or in the winter, be at the base of a world class ski slope in Lake Tahoe within two hours. Sacramento also has some of the most fun and interesting people I have met in all of my travels. I love being able to round up an eclectic group to go on weekend adventures on the coast, or relax with local wines at backyard movie nights.
What is one thing that might surprise people about you?
I hold a fourth degree judo black belt recognized by the Kodokan Judo Institute of Japan. Until 2012, I represented the United States as part of the Olympic qualifying team. For several years I held the number one ranking in the U.S. for my weight division, and have won multiple World Cup medals across the world. My favorite places I've competed include: Havana, Paris, Rio de Janeiro, Tokyo and Apia.
When you aren't in the office where can we find you?
Poking around our vegetable garden or walking around McKinley Park Rose Garden with my fiancé. During summer, you can also find me at the robust farmers' markets around town, and in the winter on the slopes at Squaw Valley.
What advice can you offer a young professional looking for a similar job/career path as you?
Be open to different experiences. It is important to have direction in the type of work you want to do, and sometimes opportunities can present themselves that take you in unexpected directions you may end up loving. Be intentional with your aspirations and if something is not right for you, be brave enough to make changes.
How has Metro EDGE enhanced your resume?
Metro EDGE is a welcoming and collaborative group of young professionals. I have enjoyed getting to know some of the volunteer leaders as I help support the planning of the 2019 Emerge Summit. I look forward to a full day of inspirational speeches, educational breakouts and networking with peers.
Know an EDGEr who would be perfect to feature for F.A.M.E.? Nominate them by emailing Gina McLaughlin, Communications Committee member.