Faces of Metro EDGE (F.A.M.E. for short) is a quick interview where we introduce you to fellow EDGErs and give you a glimpse into their professional lives and personalities. Aaron has been a member of Metro EDGE since January 2019 and currently serves on the Empower Committee. Reach out and say hi!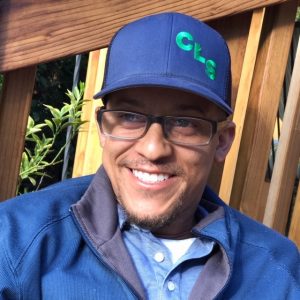 Where do you currently work, how long have you been there, and what do you do?
I currently work for Concrete Landscape Services. I started the company when I was a junior in high school as a way to earn money for my weekend activities. When I graduated high school, the purpose of my business also graduated from extra money to supporting my college education. I never planned on turning my weekend job into a full-time business, but when I graduated from Sac State, I decided to take my business on full-time and hire employees! Now I meet with customers, check on crews, and ensure we are ready to fulfill our services every day.  
Prior to that?
Prior to my landscaping job, I worked at Starbucks and Safeway. These were jobs that I needed to gain high school credit to get out of school early. I thought I was really cool that I got my last period off from school every day and only had to work Saturday and Sunday shifts. 
What is your educational background?
I graduated from Sac State with a degree in biology. My degree has absolutely nothing to do with my current career. However, I am a big supporter of attending junior college and transferring to a 4-year university. My first two years out of high school, I attended three major junior colleges in the Sacramento area. This time allowed me to mature and gave me a few additional years to grow into a young adult. I finished all my junior college classes, transferred over to Sac State in the fall of 2011, and graduated with my degree in the fall of 2014.
What is the best part of your job?
Every day is different. I am always in a different part of the city, talking to new people, and being outside. I enjoy not having a consistent day, but my challenges are always changing. My role overall has the same goal, but each day, different skills are needed to accomplish that goal which is always fun. 
What do you love about living in Sacramento?
For me, Sacramento is a place of opportunity. I spent part of my childhood in Vallejo and moved to Sacramento for high school. At first I didn't like Sacramento because I was away from my friends in a new environment. Now I know the opportunities that Sacramento provides, which I wouldn't have been able to get in Vallejo. I love the culture that is in this city and the community involvement. From the non-profits in the region to corporations wanting to give back, everyone is doing their part in trying to help this city. We now have two major league sports franchises in the city: The Kings and Sac Republic. Having two sports teams helps form camaraderie within the city. #SacramentoProud
What is one thing that might surprise people about you? 
I like to sleep a lot. I definitely get my rest, whether it be 8 hours at night or a couple 20 minute naps during the day. The folks that have been around me know that I am a sleeper and can sleep anywhere. 
When you aren't in the office, where can we find you?
Right now, I am always in the office. It has been really busy here at CLS and we are growing rapidly. Contrary to people's beliefs, a landscaper's busy period is during the fall because that's when "leaf season" begins. We start at 6 a.m. and my employees typically finish between 3 p.m. and 6 p.m. depending on the day. I am typically here until 5 p.m. but sometimes I don't  leave the office until 7 or 8 p.m. They're long days but things are finally coming together and I couldn't be more excited about the future.
What advice can you offer a young professional looking for a similar job/career path as you?
A young professional in a similar career or job would be best suited with a great mentor and learning their business's financials. My business took off with those two things. There are so many people out there giving advice. I have learned to find one person that matches the qualities that I would like to display (personal and professional) and learn from them. It can be hard to find the right mentor: not only do you have to find a person that fits the future you would like to have, you also have to be in a place where their assistance can help you grow. 
Secondly, as a business owner you have to learn your financials. Your financials have to tell you what to do. You have to remove all emotions. I believe if business owners knew their financials better many businesses would be more successful. It is amazing what happened to me once I started truly learning my business's finances and started letting the business tell me what to do based on the numbers. It takes maturity and self-awareness to see that you weren't running your business as efficiently as you could have, or you were making wrong decisions before taking the steps to change. 
How has Metro EDGE enhanced your resume?
Metro EDGE has enhanced my resume by the folks that I have been able to meet, that's the real value. Metro EDGE and the Metro Chamber have really impacted me and my business with the programs and networking events available. The caliber of people that are involved in Metro EDGE, from the leadership council to fellow members, have all been worth while and continue to keep me involved in the program!
Know an EDGEr who would be perfect to feature for F.A.M.E.? Nominate them by emailing Gina McLaughlin, Communications Committee member.