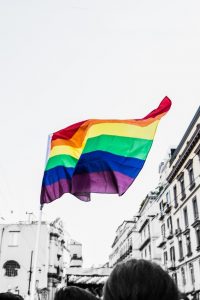 June marks the annual Pride month, a time for reflection and celebration of LGBTQ+ lives and history. For many, Pride holds its beginnings in a famous confrontation between LGBTQ+ community members and police Public Morals Division forces at the Stonewall Inn, one of few designated gay bars in New York City's Greenwich Village on June 28th, 1969. In fact, it was Marsha P. Johnson, a black transgender woman, who sparked the catalyst that would lead to a six-day long protest against police oppression and demand for equal rights. Pride evolved thereafter during the month of June from annual public demonstrations that LGBTQ+ community members would no longer leave their voices and identities hidden behind closed doors.
As with many other marginalized communities, society has disregarded the life experiences and even existence of the LGBTQQ+ community, which necessitated an ongoing struggle for universal rights and freedoms enjoyed by heterosexuals. Despite recent wins such as the Supreme Court decision, there is still much work to be done to establish a society where our LGBTQQ+ community members live, work, and play with the same amount of belonging as everyone else.
As part of EDGE's ongoing efforts in Diversity, Inclusion, and Belonging, we've compiled these resources for enhancing your feeds to learn more about the road LGBTQQ+ community members have traveled and still navigate today to secure equality in the workplace, for healthcare, for marriage, and more.
Instagram:
@lgbt_history
@sacllace (local!)
Refinery 29: 8 Queer History & Culture Instagrams To Follow Right Now
@calgbt
Podcasts:
Websites/Newsletters/Magazines:
Sacramento LGBT Community Center
Articles, videos, etc.
The History of Pride Month and What it Can Teach Us About Moving Forward Today
TED Talk: The Necessity of Normalizing Queer Love
TED Talk: A Short History of Trans People's Long Fight for Equality
Netflix/Amazon Prime/Hulu/iTunes:
We Were Here
Disclosure
The Death and Life of Marsha P. Johnson
Pose
Milk
Paris Is Burning
Kinsey
Books:
We Are Everywhere: Protest, Power, and Pride in the History of Queer Liberation (Leighton Brown and Matthew Riemer)
The Stonewall Reader (a collection of accounts, diaries, and literature)
Sister Outsider (Audre Lorde)
Kaitlyn Bathke is a transplant from Los Angeles to Sacramento of 5 years, and has been loving finding new spots to grab great food or a craft beer. By day, she is the Community Engagement Officer for Habitat for Humanity of Greater Sacramento in dual roles supporting program fundraising and marketing. In her personal life, she enjoys the outdoors anywhere near water, baking, and spending couch time with boyfriend Robert and chubby, senior gray cat Jack. Kaitlyn is on the MetroEDGE Communications Committee and manages the MetroEDGE Facebook page and Facebook group. Connect with her on LinkedIn here!