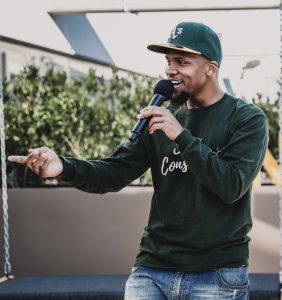 Interviewed By: Jordan Brown + Anna Fontus 
Do you ever hear someone and think: dang! Everyone needs to hear this? This was my feeling when I saw Consci8us present at the 2019 Rock the School Bells Hip-Hop Education Conference- which seeks to educate and empower students and the community at-large about the importance of higher education and promoting social change through hip-hop.  Anna and I took an hour to get this leader's thoughts on honoring your identity and leading with authenticity even when you're in settings that don't value you, your background, or your passions.
A little about Consci8us: DeWayne "Consci8us", is a musician, inspirational hip-hop artist, educator, speaker, and entrepreneur.
How does Sacramento play into your identity?
Consci8us: I grew up in Oakland, came to Sac after high school for college at Consumes River College, Sac City College, and finished up my degree at Sac State. College is where I found myself and realized my passion for educating others. From there I began working at the Oak Park Community Center and the City of Sacramento. It's where I got a new start and began to build career paths. Sacramento gave me a chance to start over.
How would you define your purpose?
My sense of purpose is rooted in my Christian upbringing and my relationship with God, to live as an example and tell others about salvation in Christ. I wanted to build a brand of positivity. I wanted my music to go everywhere, and reach everyone. To make sure that happened, I did things like stop cussing, because I wanted to make sure the youth heard my message. 
Can you point to a pivotal moment or person who got you where you are today?
Shoutout to my mom. She's been my support spiritually, mentally, and emotionally. 
There are countless people in the community who invested in me also: my older brothers Geino and LaMar, my cousins Tauheedah and Will, in college Dr. Fagin and Dr. Frazee at CRC, Dr. Marcellene Watson-Derbigny at the Sac State MLK center which oriented me to working with my peers, Dr. Ed Mills and Dave Newman as well. Mr. Charles Kidd, Ms. DeDee, Kim Mohler, and Chris Conlin too!
The best moments came from making connections through random conversations.
Did you want to respond to anything? With your work?
For sure, I wanted to be a positive example. My experiences growing up in Oakland, seeing violence, mass incarceration, I wanted to make music to make a positive change.
I remember what it felt like to hear Dr. MLK and Malcom X speak for the first time. I also remember the feelings I had when I first started listening to conscious hip-hop. I wanted my music to create that same empowerment and connection, that same feeling I felt when I listened to conscious artists. 
Who'd you listen to?
Black Ice- a Def Jam poet / Lauryn Hill/ Immortal Technique /J Cole /KRS1.
Growing up in Oakland, around artists, it (the music) slapped, and it drives you, you see how it (music) drives a whole culture and region. 
How'd you decide to make your dreams real? 
It was a process for me—staying in the space, seeing what was lacking, I wanted a greater reach. I decided that I wanted to make a positive impact and through my music, college experience and education, and my work with youth I began to see a clearer path fulfill purpose and live my dream as an empowering artist. 
I initially did a lot of work for free and over time it became a business for me. Performances are great, but I wanted to take it further you know, to teach about life skills and communication skills. I have an understanding of the energy that youth are driven by and I saw that schools were struggling with engaging students, which was one of the inspirations for me to start doing anti-bullying work with K-12 schools.
What was the reception to becoming a conscious artist? How do you deal with naysayers?
Whenever you're going to do something positive, you're going to be faced with negativity. I changed my rap name to Consci8us and initially people were saying that I shouldn't and were cautioning me not because people wouldn't want to listen but once I start making my music and staying consistent it paid off. When I speak at schools and do the anti-bullying work, the reception was and has been great.
Going through challenges and struggle is the preparation and the fuel— but if you allow it to, it can slow you down. "You grow through what you go through" that's a quote from Mama Linda.
How'd you get people on board to address bullying in schools?
Someone invited me to do my first full assembly initially and then I started doing them more consistently. When I was younger, I was bullied and that eventually led to me to become a bully as a defense mechanism. Getting bullied can push you in a bad direction and I explain karma to students when I go to their schools, we talk about accountability and consequences for bullying.
What's been the response?
I did my first full anti-bullying assembly and rally at Sac High for the entire school. It was great. I talked about Being Real and Showing Love by speaking out against bullying, being empathetic and kind to others, and how it helps you to feel better about yourself.
Do you have advice for adversity and then self-love for young professionals?
Yes, by applying the concept of "getting fortified"; self-preservation and self-awareness. Some of the racist experiences I've had have shown me the importance of "getting fortified". You have to do the self-work to be effective.  We have to train and be effective and advocate for ourselves. Be grounded in what you stand for and stuff that's against what you believe in, you may bump your head a couple of times but still keep doing the right thing. Practice speaking up, and stand up for what you believe in and over time it will become a habit. 
If you don't address things that need to be addressed, you're prone to build unhealthy relationships and develop bad habits and mindsets. You also can begin to lose your voice, confidence, and self-esteem. Being an advocate and speaking up for yourself is an act of self love and is empowering.
How do you fortify yourself?
Just to clarify, getting fortified is an ongoing process and there are many ways. Getting comfortable with being uncomfortable. Even when my voice is shaking, when I'm getting nervous, I know I still need to stand up for what's right. Also, focusing on small details. I'm thinking about strengthening your willpower and staying disciplined. Doing exercise when you don't want to, stuff like that.
Learning your triggers, having self-awareness. Solidifying my relationship with God is the most important key to "getting fortified". I'm talking about identifying distractions. Staying conscious and being real and showing love. 
Any last words?
Stay encouraged—you know obstacles are going to come up. You're going to keep growing and building through it all. Keep learning and growing from everything you experience. Be Real Show Love.
Stay in touch: Consci8us.com /platform coming soon /Instagram: @Consci8us / Latest album on all major streaming platforms, including Spotify, Apple Music, etc.: "It's Time"
Authors: Anna Fontus and Jordan Brown lead up Metro EDGE's focus on Diversity, Inclusion, and Belonging. Outside of EDGE, they both work to advance educational equity, Anna at Capitol Impact, and Jordan at Jesuit High School. Keep up with them on LinkedIn: Anna – Jordan.