Thanks to all of the executives and attendees that made the 2012 Metro EDGE Executive Insight event so amazing! EDGErs packed the Hyatt for an evening of learning, inspiration, and laughter. Elise Crispen from 3fold Communications sits on the Metro EDGE Events and Networking Committee and shares some of her own insight on the event below.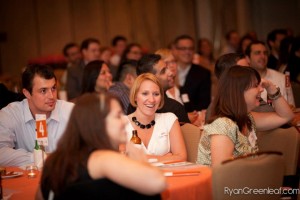 Funneling into the Downtown Hyatt last Thursday night, was a sizeable group of what some may call, Sacramento's young "overachievers."    I prefer Ginger Elizabeth's use of the term "opportunists," as capitalizing on the insights and advice of some of the region's most successful professionals is hardly an occasion exclusively for overachievers.  Besides, the evening took place over sweet potato fries, pulled pork sliders, Prosecco and a lovely arrangement of other gourmet bites and beverages… it was bound to be a night for the books.
Before I dive into a recap of the evening, I must disclaim the difficulty of putting into words an experience of so many triumphant elements.  From milling around an energetic ballroom of both new and familiar faces, to absorbing one inspirational story compounded on the next, Executive Insight was truly a unique evening.
In fact, the event's largest differentiator was the sheer brilliance of the panel-less, panel of speakers.  Instead of the typical crowding-inside-an-oversized-auditorium-watching-panelist-on-a-projector-screen-and-internally-debating-when-appropriate-to-ask-a-question, the panelists "travelled" to each table speaking on topics of interest to each group– brilliant.  This model made it much easier to put faces to names, build rapport with the speakers (and fellow EDGE'ers), acquire the most applicable advice and speak openly and freely.
Largely because Executive Insight was slightly different for each of us who attended, I'd like to recall a few noteworthy perspectives from each panelist: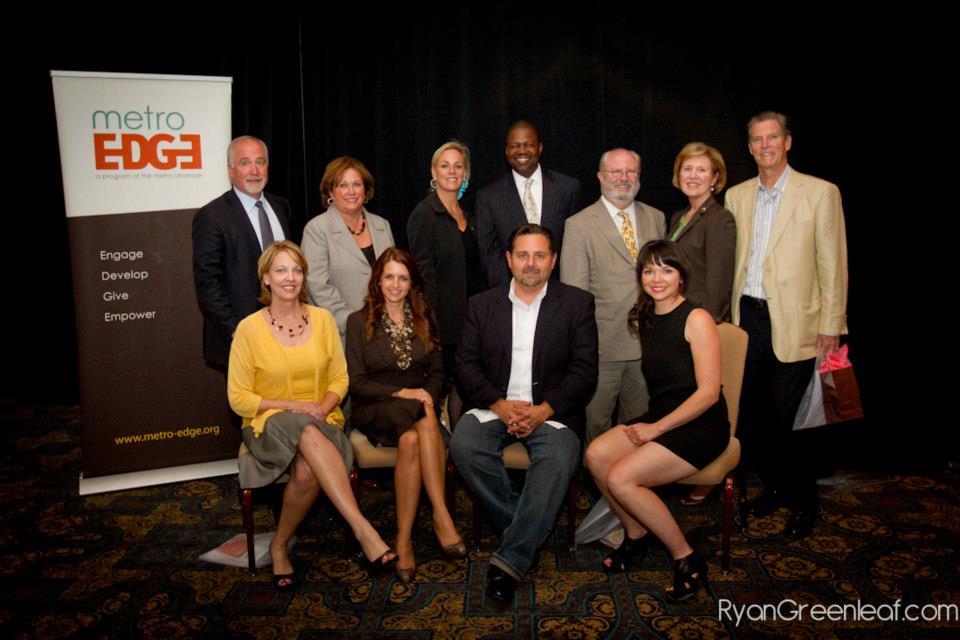 Christi Black | Executive Vice President, Edelman
When someone tells you what they want to do, ask, "What do you want to accomplish?"
Ask a question, then wait.
Use your gut instinct.
Michelle Bouchard | President, HealthCorps
Lead an intuitive life.
Where is Sacramento's strategic economic plan?
Don't focus on the door; you're going to fly through the window.
Vincent Johnson | COO, UC Davis Medical Center
Used to see business through dollars and cents, but then learned to use faith in his work – "we make plans, but God is the best planner."
Create a career mission statement.
You learn more in the valleys than the peaks.
Ginger Elizabeth Hahn | Owner, Ginger Elizabeth Chocolates
Start by working for the best and under the best; then, pick one thing to master and become really good at it.
Greatest accomplishment is still being in love with her husband, after starting a successful business and having two kids.
Although she knew what she wanted to do at age 5, she believes it is never too late to start something you are passionate about – Julia Child was 38 when she started in the field.
Supervisor Susan Peters | Sacramento County Board of Supervisors, District 3
Jumped all over in careers – banking, real estate, Chamber of Commerce, etc. – informing some best practices "marrying the public and private sectors."
Knowledge, learning and working hard; had her first job at 14.
Hope for a government that is rational and handles money well.
Dr. Sandra Kirschenmann | Associate Vice Provost, Drexel University Sacramento Center for Graduate Studies
It's about positioning.
When there are barriers, be entrepreneurial and strike deals.
With focus and persistence, anything is possible.
Fred Teichert | Executive Director, Teichert Foundation
A successful business strategy turns a community into a success.
To understand what he was preparing his students for as a professor, he left teaching to work in business.
Keep talking to younger people.
Mike O'Brien | President and Co-Publisher, Sacramento Magazine Corporation
Assess regularly and adjust.
You'll never have a job you love, until you have one you hate.
Try new things. Fail forward. Learn to sell.
Roger Dreyer | Partner, Dreyer Babich Buccola Wood Campora, LLP
There's always room at the top, do not be afraid to try.
Women have a big place in our world, whether in business or personal.
The people you surround yourself with are crucial to your success.
Yvonne Glenn | Owner and CEO, Trofholz Technologies, Inc.
Support yourself, never depend on someone else.
Focus on what's important at a particular time – family, friends or work – and give them or it 100%.
Fight hard to be respected and accomplished.
Gordon Fowler | President and CEO, 3fold Communications
Be a good community member; it will come back around professionally.
Your career is a checkerboard, not a vertical path.
You can have it all…just not all at once.
Although this 'shortlist' actually seems quite lengthy, it just barely scratches the surface of an outstanding night; my sentiment was shared that it would've been great to have these professionals at our table longer!  And, while these perspectives lend themselves to some interpretation, each inspiring message is invaluable for getting inside the minds of the region's premier leaders.