Michael Marion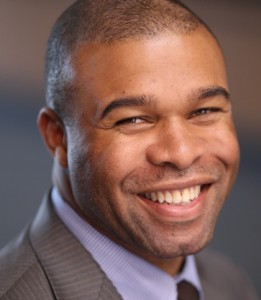 2015 Metro EDGE Program Chair
Drexel University Sacramento Executive Director
and Associate Vice Provost

This is an exciting month for Sacramento as more than 700 young professionals will gather to collaborate, inspire and learn how to create positive change in our region.
The Emerge Summit, which brings 10 professional groups together, is pivotal to Sacramento's civic, economic and philanthropic growth. A single afternoon with some of the youngest and brightest minds in our region will yield dramatic results.
We've been type cast by some as a generation that is more interested in texting away on our smart phones than being engaged in what is happening in our communities around us.
However, this is simply not true.
At Metro Edge, the under-40 group from the Metro Chamber, we are pushing our members to take real ownership of Sacramento's biggest challenges.
We understand that reaching disadvantaged children at a young age will do wonders for their future. We know education is the top determining factor to why a child succeeds or not as an adult.
To help ensure these children do not fall behind, we have joined the Sacramento Reads program. Our young professional members are volunteering their time at 12 under-performing schools to teach elementary students how to read with personal one-on-one instruction.
For a prosperous Sacramento tomorrow we know it is critical to address the symptoms of a problem years before it becomes an uncontrollable issue. We want these children to understand college is a real option for them.
But we are not the only ones stepping up to make a difference in our region.
The United Way Young Leaders Society is tackling obesity issues in the community by raising $25,000 to install new hydration stations at five local elementary schools. Most of the schools in the Robla Unified School District don't have properly working drinking fountains in the cafeterias so children tend to choose beverage options with sugar and other additives.
The donations will change that by not only installing filtered water stations, but each child will receive their very own water bottle to use during lunch or breaks.
In Roseville, the Chamber's young professional group known as Ignite focuses not only on their own career development, but is pushing for more higher education options for students.
UC Davis, Sacramento State and Drexel University have all solidified themselves as attractive options for students looking for four-year universities, but far too often many high school students leave the region to attend college.
With the announcement of Sacramento State and the England-based University of Warwick planning to build satellite campuses in western Placer County, the region is ripe for an economic boom.
These organizations and many others are working tirelessly to evoke change. More engagement by the tens of thousands of working professionals under the age of 40 is needed. Those of us engaged need to understand it won't come easily.
There are three key steps to bring about change:
The initial step is getting someone interested and convincing them why they should help. Without genuine interest in their own community, there is very little chance anyone will take ownership in doing something to change it. The several hundred who have already signed up for the Emerge Summit, reveal a desire to make a difference.
Learning how to take action is the second step. That is what the Emerge Summit is all about. Young leaders will acquire the tools necessary to return to their communities with greater knowledge and understanding of how to be successful in making that change.
Acting out the change we see is the third and final step. Once involved and engaged, it is empowering to witness the impact when one is motivated to create. It is magnetizing when individuals begin to see results as others quickly discover they can also play a role in reshaping their own career, office, and neighborhood.
The movement is underway and many young professionals understand that we must not stand idle. We cannot just wish for a more educated workforce. We cannot just hope more people will volunteer their time to their communities. We cannot just hope someone else will get the job done.
The Emerge Summit is an example that we are owning up to make this change happen. The young professionals of the entire region are joining together to help ensure we can reach not only today's goals, but the ones we seek to accomplish in the decades to come.
Michael W. Marion, executive director and associate vice provost of Drexel University Sacramento, is the Metro Edge 2015 Program Chair.