Sacramento has secretly assembled some of the best Young Professionals in the nation and we want to share that secret with everyone! Metro EDGE is proud to highlight some of our area's best YPs and letting you in on all they know. What are they up to? How did they get there? What do they want for Sacramento's future? Find it all out here!
First up...Justin Wandro!
Justin Wandro is like any other young professional. He has a job at Loaves & Fishes as the Development and Communications Director where he makes an impact on our homeless community, he's a member of the Leadership Sacramento Class of 2015 where he's helping host one of the largest fundraising events in the program's history, and he goes home to a beautiful wife and four children every night. Wait, what?! Four kids?! Yep, that's right. And they're all under the age of eight. Needless to say, Justin is no ordinary young professional.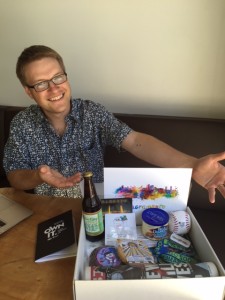 On top of all of that, Justin has recently decided to add entrepreneur to his resume (we assume he lists the four kids on there too). He has recently launched The Sacramento Box, where he has taken all the awesome things about Sacramento, and packed them into a box!
"I like to say I'm an entrepreneur at heart. Business and start-ups have always fascinated me," said Wandro. "I'm always looking for ideas, how can I be involved, how can I connect, how can I provide more value for the community. Sacramento has tons of neat things that are made here locally, and The Sacramento Box allows us to easily share them." Items like a Sacramento Zoo lanyard (you can't just buy them!), locally brewed root beer, locally baked fortune cookies, and much more can be found in The Box.
Think you have a great idea? Justin's advice is to talk to people. "Anything that is going to take up a whole bunch of your time and resources, you want to talk to other people and get their thoughts. People love to give advice."
Justin's  own idea is also giving back through his new business – for every box purchased, a meal will be donated to Loaves & Fishes. Justin's passion for serving the homeless community runs deeper than you may think. "It's hard to balance making Sacramento a welcoming place where everyone feels comfortable walking around, but still deal with people experiencing homelessness in a loving and compassionate way."
Justin recently co-wrote a grant that brings together the Downtown Sacramento Partnership's navigators, Loaves & Fishes, Sacramento Steps Forward, and TLSC in order to bring more services to our homeless population. "I'm excited for the future of Sacramento with this program because it's something that works. It helps people and makes our city a better place."
Looking to the future for The Sacramento Box, Justin hopes to highlight some of the greatest local experiences - the best of Sacramento - and help companies share that with their customers. " I hope it's something that businesses will use to send to recruits they're trying to bring to Sacramento, apartment buildings giving them as gifts to new tenants, conferences having them to their attendees. The possibilities are endless!"