We like keeping Metro EDGE members connected to awesome local events, so here's information about Sacramento's Annual LAUNCH Music Festival coming up September 7th & 8th at Cesar Chavez Park and a great Members Only Perk!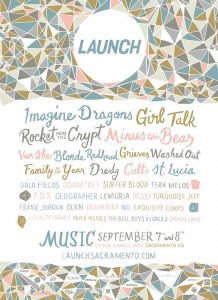 LAUNCH Sacramento is offering discounts on their signature events to MetroEdge members*:

Fashion X Showcase  ($40)
Friday, September 6 : LAUNCH Festival's Fashion x showcase brings internationally celebrated designers into the spotlight for an evening of fashion and design.  Designers including NBC's Fashion Star contestant Johana Hernandez, Los Angeles women's fashion design house FROCK LA, and designer Adolfo Sanchez will take center stage at the Tsakopoulos Library Galleria for an evening of excitement and glamour.
Launch Festival 3-Day Pass ($100)
Friday-Sunday, September 6-8 : Includes ticket to Launch Fashion x Showcase, plus weekend pass to LAUNCH x Music Festival. Enjoy two days of music acts taking over Cesar Chavez Plaza.  The plaza will be converted into a dynamic festival environment with two main stages, large-scale art installations, merchandise, art, and food vendors with four beer garden areas.  Headlining acts include platinum artist Imagine Dragons, Rocket From the Crypt, Girl Talk, Minus the Bear, and Blonde Redhead with other performances by Cults, Doomtree, Van She, Grieves, Surfer Blood, Geographer, Family of the Year, P.O.S., Gold Fields, Tera Melos, Dessa, Turquoise Jeep, Exquisite Corps, Life in 24 Frames, Paper Pistols, DLRN, The Bell Boys, Dredg, Lemuria, Frank Jordan, Doombird, Washed Out, St. Lucia, and NO.
*These discounts are only available for purchase through September 3  to those with a current paid MetroEdge membership and their family and friends. Tickets must be purchase in cash by confirmed member. This exclusive offer also saves MetroEdge members the convenience fees that would have been incurred through Launch's website.
For more information about this discount or to buy tickets, contact Laurie at b.laurie@rocketmail.com
UPDATED: Payment must be received by Laurie at 9pm, Weds, September 4th, 2013