Here's your third sneak peak into the background of one of the four local entrepreneurs we have lined up for you at next Thursday's EDGE Insight event. First us was Mark Otero, KlickNation – Founder & CEO, click here to read his profile. Then came Dave Kovar, Kovar's Satori Academy of Martial Arts – Founder & Chief Training Officer, click here to read his profile. Third came John Argo, Bloo Solar - Founding CE, click here to read his profile. The event will be held at Spataro on October 21st at 5:30pm. This intimate venue will give you a unique opportunity to ask questions and network with  speakers as well as attendees.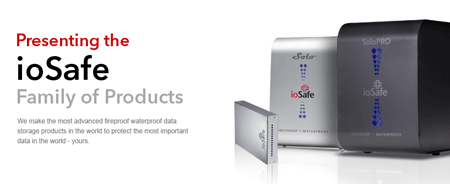 Robb Moore
ioSafe


Founder & CEO

Robb Moore is the Chief Executive Officer of ioSafe, Inc., and is responsible for setting the company's strategic course. Mr. Moore founded ioSafe – the market leader of the emerging disaster proof computer hardware. ioSafe is a high tech startup in Auburn, CA and manufactures fireproof waterproof hard drives – like an aircraft black box but for consumer and business data protection.
With limited marketing and PR resources, Mr. Moore has used guerrilla-marketing techniques to garner top press from print, internet and television media outlets. ABC, BBC, PC World, Wall Street Journal, Engadget, CNET and many others have covered ioSafe's unique product line. On track to grow 300% for 2010, ioSafe customers range from the Pentagon, Army/Navy, Fortune 500 to small businesses and home consumers. Products are sold through Costco, Wal-Mart, Amazon, BestBuy and Dell.
Mr. Moore has a degree in mechanical engineering from the University of California, Santa Barbara, and he is a registered Professional Engineer in the state of California.  He has developed hundreds of designs for hi-tech, medical, consumer, aerospace markets. In addition, he serves as CEO of Kollabra – a product development company and also serves on the Sacramento Area Regional Technology Alliance (SARTA) Board of Directors. He is also a general aviation pilot, published author and primary inventor for multiple US patents.
Website: http://www.iosafe.com/
Come out to the event!
Ever wish you could peek into the minds of local entrepreneurs? Now's your chance!
Join EDGE for a night of mixing with local entrepreneurs. Enjoy appetizers and drinks from Sacramento hot spot Spataro as you learn about the experiences of several local entrepreneurs.
Bring your questions! You will also have a chance to ask the entrepreneurs what's on your mind.
Who's in the lineup?
Featured Entrepreneurs
Robb Moore, ioSafe – Founder & CEO
Moderator