Here's your second sneak peak into the background of one of the four local entrepreneurs we have lined up for you at next Thursday's EDGE Insight event. First us was Mark Otero, KlickNation – Founder & CEO, click here to read his profile. The event will be held at Spataro on October 21st at 5:30pm. This intimate venue will give you a unique opportunity to ask questions and network with  speakers as well as attendees.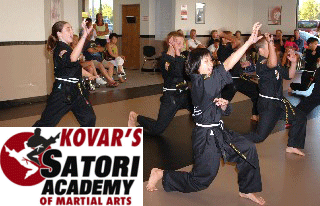 Dave Kovar,
Kovar's Satori Academy of Martial Arts
Founder & Chief Training Officer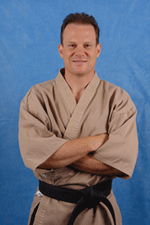 Kyoshi (Master Teacher) Dave Kovar has been teaching martial arts since he was 15 years old.  An internationally renowned instructor with black belt degrees in ten different martial arts styles, Kyoshi Kovar founded his company, now known as Kovar's Satori Academy of Martial Arts, in 1978 with a vision to empower people by teaching martial arts on a completely different level than could be found anywhere else. In the 32 years of its existence, Kovar's Satori has provided martial arts instruction to over 25,000 students and their nine schools currently provide training to 2,000 students in the greater Sacramento area.  Regarded as a thought leader in martial arts for their innovative approach, Kovar's Satori is recognized as one of the top martial arts organizations in the world.
Kyoshi Kovar is acknowledged as a "Trainer of Trainers" and people from around the world routinely visit his Sacramento facilities to learn his instructional techniques.  His unique method of instruction earned him the distinction of being the Instructor of the Year in 1992 from the United States Martial Arts Centers.  In addition, Kyoshi Kovar was recently recognized by the Martial Arts Industry Association (MAIA) with their 2010 Lifetime Achievement Award. Kyoshi Kovar regularly provides business and instructional training videos to martial arts school owners and their teams, as well as authoring articles for several martial arts publications.
Website: http://www.kovars.com/
Come out to the event!
Ever wish you could peek into the minds of local entrepreneurs? Now's your chance!
Join EDGE for a night of mixing with local entrepreneurs. Enjoy appetizers and drinks from Sacramento hot spot Spataro as you learn about the experiences of several local entrepreneurs.
Bring your questions! You will also have a chance to ask the entrepreneurs what's on your mind.
Who's in the lineup?
Featured Entrepreneurs
Dave Kovar, Kovar's Satori Academy of Martial Arts – Founder & Chief Training Officer
John Argo, Bloo Solar – Founding CEO
Robb Moore, ioSafe – Founder & CEO
Moderator