Alexis Fitzpatrick
CPA, Crowe Horwath
2011 Metro EDGE Program Chair
I started Metro EDGE in 2009? Wow that seems like so long ago. It was EDGE's first year and I sat on the Philanthropy Committee which had recently separated from the Regional Action Committee. The one and only SOB (Sean O'Brien, Metro EDGE 2012 Program Chair) was committee chair.
In 2010, EDGE really began to take off and I continued on the Philanthropy Committee as co-chair with Sean. This was the year the committee created Day on the Edge, the epic dodgeball fundraising tournament. It was also the year I took shot at running for Chair of Metro EDGE and was elected!
It was an amazing opportunity to not only be part of such an incredible organization, but to help lead. It was an fantastic year for EDGE and myself. We created the first Executive Insight event, membership grew, we had another incredible Day on the EDGE dodgeball fundraising event, and we became more and more involved in regional activities and initiatives. We also started lunch and learns, now called EDGEucational Forums, and the leadership council was nothing less than stellar!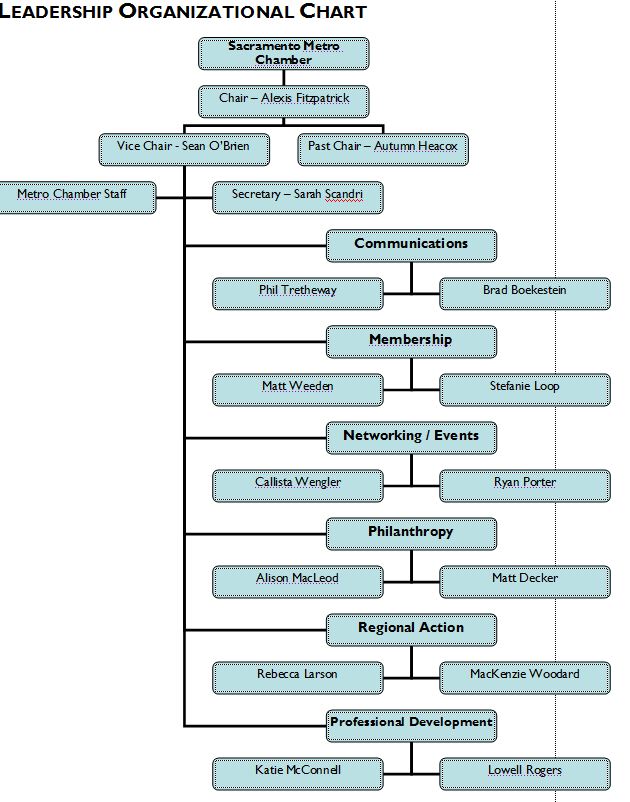 Check out the org chart to see some of the leaders.
I was proud to say we were only a 2 year old program of the Sacramento Metro Chamber and were quickly becoming the leading voice of the young professional demographic. During this time, the Leadership Council easily had more than 1,000 hours of community service, had donated thousands of dollars for charity, and hosted networking events with nearly 400 attendees and dozens of educational opportunities.
Now that EDGE is growing up, I am proud to see it continue to thrive. The organization has been instrumental in support of the growth of the region's business community and is a conduit for businesses, offering direct access to the young professionals committed to the creative and economic development of the region.
My four years on the Leadership Council provided me with some of the best experiences, professionally and personally, that I've had. The people I was able to work with and the memories created can never be repeated. The work helped teach me how to lead a group of professionals, challenge the status quo, be innovative and it enhanced my overall network.
I encourage everyone to get involved in EDGE. I am so proud to say I was a part of this dynamic organization.