By Sean O'Brien
Senior Financial Adviser with Merril Lynch Wealth Management, Bank of America Corporation
2012 Metro EDGE Program Chair
Time flies when you are having fun. But I never thought five years would fly by so quickly.
It was January 2009, but it feels like only yesterday, that I took a phone call from the Sacramento Metro Chamber of Commerce to discuss founding a new young professionals group. I remember meeting in a vacant office in the Retro Lodge building on the corner of 11th and H. I wish I could remember who was there (if you were there – reach out to me!) We had a great talk about the future of Sacramento and wanting to make changes. Little did I know these changes would start with help from the Metro Chamber and grow into an organization of over 500 YP's strong – Metro EDGE!
Being it is our 5th birthday, they asked an old veteran like me to talk about EDGE back in the day ... we had to walk uphill in the snow to meetings ... both ways.
My first role in EDGE was helping start the philanthropy committee. We didn't have a clue what to do! After a while, we figured out one of the best lessons ever, if you want to help your community, it is a lot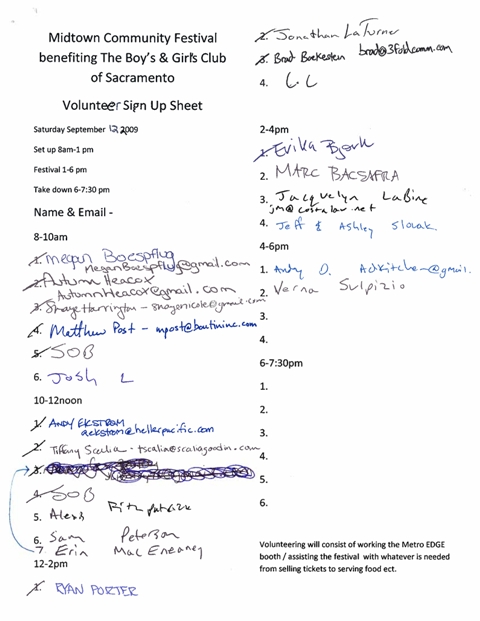 easier to do so by participating in other organizations' efforts then to start your own : ) We joined forces with the Boy's and Girls Club and had an awesome time at the Midtown community festival. Look, at was so long ago, we even had signup sheets using pen and paper!!!!! Check out all the names who signed up to help the charity event!!! Four past chairs, a young professional of the year, and our current Political Action Chair. It just shows if you want to learn about EDGE, sign up to help at an event and we'll make you part of the cult (Shameless plug, if you want to help out at an upcoming event email us at metroedge@metrochamber.org).
While we are on the topic of charity, our first ever yearly beneficiary was Sacramento State's Educational Opportunities Program. We were lucky enough to raise around $3,000, which isn't bad for a new young professionals group. Things really came full circle for us when we found out earlier this year that the money we raised had been awarded as an EDGE Scholarship. It's a great feeling to know that the Metro Chamber invested in us, and we have paid it forward to the next generation of young professionals with the scholarship. Best wishes to EDGE and here's to another 5 years ... SOB 2012 Chair