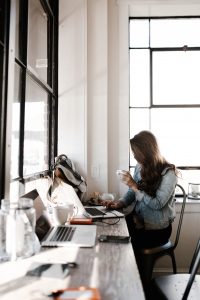 More and more these days employers are including continued professional development and education as a job requirement. The awareness of the importance of continuing to improve and sharpen our skills in the workplace is refreshing, but how do you do that from home?
Well, the first step is to make a list of what workplace and personal-development skills you'd be interested in working on. This looks different for every young professional and is based on a combination of your interests and career. Take time to research the job descriptions and requirements of the next position, or what skills you'll need to land that dream job of yours.
If you're still not sure where to start and how to make your list, here are some suggestions based on core skills most YPs need for both personal and professional development:
 

Business Writing

 

Communications

 

Creating a Positive Brand

 

Financial Management

 

Leadership and Management

 

Presentations

 

Public Speaking

 

Retirement Planning

 

Salary & Benefits Negotiation

 

Time Management
Now that you have your list, where can you go to work on these skills that won't be both a financial and mental drain? The first and most notable is any workplace course offerings that may be available to you. Larger companies in the Sacramento area offer both online and in-person training opportunities. While the in-person training opportunities may look a little different right now, Zoom's breakout rooms help to provide more collaboration, rather than just listening to a webinar. Best of all, these courses are typically free!
Speaking of free, if that is the kind of budget you have right now, it's totally okay! Some options available to you include Harvard Online Courses provided by edX, 1-hour educational webinars by General Assembly, TedX, or YouTube Videos.  There's also training that may be provided as a membership perk with any professional organizations such as Metro EDGE, the American Marketing Association, Public Relations Society of America, etc.
Lastly, if you've thought about going back to college, free tuition is just a search away. If you're married, you or your spouse may be affiliated with a union that provides free tuition. Your employer may cover your college costs. Or you could apply for, and take advantage of, one of several tuition-free online colleges that are now available. Either way you choose, free opportunities are available to everyone!
If you are able to make the investment or have an employer who has offered to cover educational costs, some great grad school options are UC Davis Graduate School of Management, CSU Sacramento, and University of the Pacific. Another option is looking into UC Davis' Continuing and Professional Education Online Offerings. Currently enrolling for online fall classes, these courses are a phenomenal way for you to get a leg up. And, they offer everything from Business Analysis, Accounting, and Paralegal Studies, to Beer Quality and Winemaking.
Another great option is conferences. Normally conferences would allow you to learn, network, and get out of the city (anyone remember what it was like to travel?).  Now, the experience is a bit limited by having to be 100% online, but conference planners have worked in ways for attendees to not only feel as if they get the opportunity to engage while being remote, but normally also allow for some networking time so we can still meet our peers and talk shop over a drink during a scheduled happy hour.
One of the best examples of this is Metro EDGE's upcoming Emerge Summit. Normally a one-day event taking place in-person, this year's Summit is a half day online experience that will offer just as much value as previous years. Scheduled for September 17th, Emerge Summit provides inspirational speeches, educational breakouts, and valuable opportunities to network with peers. Kicking off the night before Emerge is Metro EDGE's birthday celebration, EDGE 916. This year will be a fun, ground-breaking,  educational experience you don't want to miss! Be sure to register here.
No matter your career path, you do not want your professional development to fall by the wayside during this pandemic. Being knowledgeable in your line of work and learning new skills is a constant. So, remember that Netflix will still be there, but that conference you've been eyeing may not. Jump on the opportunity to learn today!
This is a guest blog by Celia Coughlin-Surridge. Celia is new to Metro EDGE this year and serves on both the Engage and Communications Committees. Dedicated to working with nonprofits in the Sacramento region, she opened her marketing firm, (Modern Roots Marketing), alongside her mother in late 2018 with the mission to simplify online marketing for smaller organizations. A mom to five cats and one little boy, she and her husband live in Carmichael.