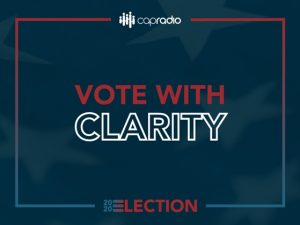 One of the last breakouts of the 2020 Emerge Summit was the Vote with Clarity: CapRadio Helps You Navigate Crucial Election 2020 Issues session. If you are not familiar, CapRadio is Sacramento's NPR news station. As a member-supported, nonprofit news organization, CapRadio keeps its community informed and connected through fact-based, local journalism.. They do, however, advocate for you to do your part by voting and be as well informed as possible. Their main speaker, Nick Miller, shared, "Our goal is to weed through the confusion and give you clarity." This 50-minute breakout was jam-packed with unbiased, fact-checked information, complete with a short Jeopardy game for some light-hearted, but also educational, fun.
Speakers included:
 

Nick Miller, Managing Editor of News, CapRadio

 

Sarah Mizes-Tan, Race & Equity Reporter, CapRadio

 

Nicole Nixon, Politics Reporter, CapRadio

 

Kris Hooks, News Editor, CapRadio

 

Scott Rodd, State Government Reporter, CapRadio

 

Chris Nichols, Politifact California Reporter, CapRadio
Going to the Polls: What do we need to know?
This year marks a historic change in that all active registered voters will automatically receive a mail-in ballot. Previously, you'd have to specifically request a mail-in ballot, but this year all 20 million registered voters in California will receive them. This doesn't mean you should assume you'll receive a ballot in the mail, however. You do want to make sure you're registered by going to the Secretary of State website, your county election website, or even call your county's election office to verify your registration is active. You also want to check to make sure your address and preferences are all up-to-date.
For those who have just moved to California, you can register even if you don't have a California driver's license or identification card as of yet. You'll need to log in to your county's website and request a voter registration application. You'll want to make sure to do this as soon as possible so your voter registration is completed in time for the election. The deadline to register to vote in California for the November general election is October 19, 2020. 
Concern Over the Post Office:  Will we, or the state, get it in time?
More than ever, this year is the year to plan to vote early and not wait until the last minute. While, yes, there are concerns with the mail moving slower, Californians have options when turning in their ballots. You can drop off your ballot at an election office, a ballot drop box (found at libraries and community centers), or voting centers. Voting centers will open before the November 3 election day, which is the best time to go and drop off your ballot as, historically, most people do their voting on election day.
Now, you can mail your ballot on election day, but your ballot must be postmarked on November 3 in order to count. If it's postmarked November 4 (or later), your ballot will not be valid! Best practice is to mail your ballot a week ahead.
Voting Centers: Are we going to have enough volunteers?
Typically voting centers have been staffed by older people and retirees. Due to being susceptible to COVID-19, there are national concerns over the number of volunteers who will staff our polling locations. Thankfully, Sacramento County is doing okay with the level of English speaking volunteers currently scheduled. However, there is a shortage of bilingual volunteers. If you're bilingual and willing to volunteer, please consider doing so and reaching out to your election office!
Counting Ballots – Are we going to know the election results on November 3?
A new law this year requires California counties to wait 17 days to count ballots that come in, (as long as they are postmarked by November 3). Meaning, that for some close races we may not have the results for weeks. While other states may not have as long of a wait period, there is anticipation that it may take some swing states a while to be able to fully report.
Social Media Disinformation
Fact checking false news on social media has been a huge focus and there is genuine concern that misinformation could sway how people vote. CapRadio has a partnership with Facebook that allows them to review a database of widely shared claims. This allows them to fact-check the posts and report that as either partially untrue, or entirely false. Nick and Chris shared and reviewed a few of these, pointing out how reported posts now have a disclaimer and a "See Why" button so you can find out more.
No matter how you look at it, people should use common sense. If something triggers an emotion for you, or seems off, do fact-checks and be careful with what you are sharing. Is it legit? Do your homework!
It's Time for Jeopardy!
Nick asked all of the CapRadio speakers to participate in a quick round of Jeopardy. Topics included Save the Date, True or False, and Measure by Measure. This is a play-by-play of that, just for fun, but yet knowledgeable portion of the session:
Sarah selected True or False for $100 - You will be turned away from voting at a center on election day because you were sent a mail-in ballot. Answer is False.
Note: You are able to file a provisional ballot if you've lost your ballot, or you can bring your mail-in ballot and do the voting process at a center.
Sarah selected True or False for $200 - You should vote by mail and in person, just to make sure your vote counts. Answer is False.
Chris selected Measure by Measure for $500 - This ballot measure would repeal a contentious measure from 1996. Answer is, What is Prop 16?
Note: Prop 16 would repeal Prop 209, an affirmative action proposition from 1996. You can find an article written by Nicole Nixon on CapRadio for more information.
Nicole selected Save the Date for $300 - The date vote-by-mail ballots begin going out to registered active voters. Answer is What is October 5?
Note: Request your ballot if you have not received it within two weeks.
Chris selected Save the Date for $500 - The day some voting centers begin opening in Sacramento County. Answer is What is October 24?
Scott selected Measure by Measure for $400 - This initiative would allow governments to apply rent control to almost all housing built prior to 2005. Answer is What is Prop 21?
Viewer Submitted Questions
Are there any other propositions that are particularly noteworthy?
Scott shared that Prop 22 is extremely contentious with gig companies like Lyft, Uber, Door Dash, etc. Essentially, this Proposition would allow these companies to continue hiring their drivers as contractors, not employees. This saves them the extra cost of benefits such as paid time off, health, dental, etc. However, some believe that this allows for abuses of their workforce and is highly debated from both sides, going as far as to have Uber and Lyft threatening to pull out of California if they can't hire contractors.
So many people say that due to slants in journalism, news sources can't be trusted. What can you really rely on for facts, not opinions?
Nicole shares that the best way to find good journalism is to have a diverse media diet. Do not rely on one source for all of your information. If you see something on Social Media, Google it to see what other sources have to say and make an informed decision for yourself.
Can we hear more on Prop 20?
Kris shared that this proposition would reverse Prop 47, which will expand felony charges for certain crimes, and help to fund more prisons and jails. Opposers to Prop 20 have deep concerns about potential cuts to inmate rehabilitation funding, mental health support and a step back in criminal justice reform (Source: LAO). Kris will be providing more information in an article on CapRadio soon.
Anything else our speakers would like to share?
Sarah spoke on the "Strong Mayor" Ballot Item. Mayor Darrell Steinberg is asking to make the mayoral position a stronger position. Essentially, he is a member of the City Council and doesn't have as much power as other mayors, such as San Francisco's or Los Angeles'. Some feel it's a power grab especially during these sensitive times. However, it seems to be a pretty straight-forward measure. You should take some time to review this if this is part of your ballot.
No matter how you look at it, this is a historic time for Sacramento and our country. We encourage you to take part in our Get Out the Vote initiative and we'll see you at the polls either before, or on, Election day!
Celia Coughlin-Surridge is new to Metro EDGE this year and serves on both the Engage and Communications Committees. Dedicated to working with nonprofits in the Sacramento region, she opened her marketing firm, (Modern Roots Marketing), alongside her mother in late 2018 with the mission to simplify online marketing for smaller organizations. A mom to five cats and one little boy, she and her husband live in Carmichael.