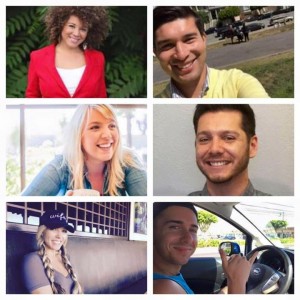 The Best Weekend Ever project continues with our fourth group taking over July 17 -19! Follow along as a group of Metro EDGE and Metro Chamber members check out the State Fair, go pub crawling, celebrate the CSUS MBA program, take a luxury ride to brunch on the river and more!
Proof that attending Chamber meetings leads to good things, these six young professionals all met through various Chamber meetings throughout the Sacramento area. Two of the members just met recently at Metro Edge Executive Insight. There, they hatched plans for what these six people think will be the best, Best Weekend Ever.
Friday, July 17
In support of the local community, the crew will head on down to the State Fair on Friday night. Planning to check out a few exhibits, waste a few hours at the food vendors, and risk their lives on some rides, they are looking forward to participating in what the State calls, "The Best 17 days of summer".
Saturday, July 18
Saturday morning will begin like all Saturday mornings: coffee. The crew will be sending in their pictures of their typical Saturday morning brew before they all meet up at 11:00am at Practical Cycle for a nice bike ride around Old Sacramento. Balancing a picnic lunch the young professionals will ride over to Capitol Park and share a potluck lunch. Bring a dish to pass if you want to join!
Joseph from the group will split off to celebrate the MBA program at CSUS with a Luau. Kerri will be teaching a class at the local nonprofit, Mercy Ministries. The gang will meet again to enjoy the SOLD OUT Old Sacramento Speakeasy Tour & Pub Crawl; you'll have to catch next months' tour! #downtownsac #oldsac If you are out and about in midtown that night, the group invites you to tag along!
Sunday, July 19
Sunday morning the ladies from the group will start their week off right with a trip to church that morning. Not sure if the selfie stick will make it to the service. The gang will be transported to brunch by USA Valet Parking and Limousine in a decked out SUV #rollinginstyle. Alonso scored the group a sponsored lunch at Rio City Café, where the crew will enjoy their bottomless brunch on the banks of the Sacramento River. And to relax after such an eventful weekend the gang will end their Best Weekend Ever by floating down the river with average Wal-Mart bought rafts.
Follow along on social media: #BWE    #EDGE916
Metro Chamber: @metro_chamber
-Annie: @annie_tude (Insta)
-Kerri: @lifeafter25 (Insta) | @KerriMovesWest (Twitter)
-Alonso: @lonzi496 (Insta)
-Jillian: @JillianMourier
-Joseph: @instajoeyjoe (Insta)
Make sure you share what your best weekend ever is using #EDGE916, #BWE and tagging @metroedge on Instagram and Twitter – let's show them Sacramento's best!