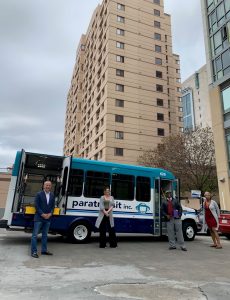 Paratransit's CEO, Tiffani Fink, took a few minutes to update us on how their organization has responded to COVID-19 and the changes in community need. Paratransit, Inc. is the region's leading provider of mobility services to the ADA and elderly populations. They're the Consolidated Transportation Services Agency for Sacramento where they work with social service agencies to assist in meeting community needs. Paratransit is a proud Metro Chamber member and appreciates the continuous opportunities to actively partner on various initiatives that advance the region.
What difficulties are you facing due to the COVID-19 situation?
We're simultaneously experiencing up to a two-thirds drop in demand for Paratransit trips and a sharp increase in vulnerability for our patrons. In order to protect the health of our patrons, we needed to evaluate every nook and cranny of our service, procedures, and facilities to identifying and addressing areas to strengthen protection for our community. We needed to be responsive and maintain our same service levels. I'm proud to say that we were successful in adapting to the changing needs of our community, and it wouldn't have been possible without the skills and commitment of our staff members.
How have you had to pivot in order to adjust during these times?
We have evaluated our functions and 1) worked with employees 65 years or older to have them stay home (we have 17 employees in this group) and 2) identified functions that can be performed by telecommute and were able to capitalize on our previous investments in technology to think outside the box. These line level employees previously represented the data analysis, Human Resources, accounting, and IT departments but starting this week we were able to innovate and will be moving all call center and administrative functions to telework as well. Staff are on rotating schedules to ensure that management has a presence in the office to complete necessary technical assistance and oversee the day-to-day operations for those employees whose work requires them to come into the office (and go out on the road).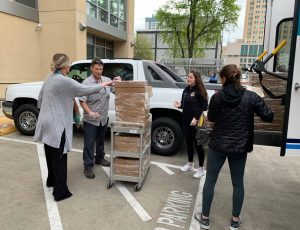 Have you seen any positives during these uncertain times? 
Our employees stand committed to delivering service and ensuring our patrons have access to the care they need. As a result, they have rallied behind a message of "Paratransit Strong." I think another positive is the public's improved understanding of how they can play their part to protect communities such as the elderly and immunosuppressed. While we haven't ever seen anything as threatening as COVID-19, our populations we serve are more susceptible to being impacted by situations like flu season.
Have you identified any resources/strengths your organization can provide to other individuals/organizations at this time?
As seniors and many of our passengers have been identified to isolate, food access has become a key element of the support chain. We have been working with the Sacramento Food Bank to develop a program for Paratransit to deliver 1500-1750 boxes of food a month to homebound seniors. We are able to accommodate this without impacting our traditional service commitments. This allows the food bank to focus on the need to get food to other impacted groups. We have also partnered with the City and 5 local restaurants (Mulvaney's, Allora, Canon, Camden Spit and Larder, and Binchoyaki) to deliver over 700 meal kits a week to 11 SHRA complexes for seniors. Each box contains meals for approximately 4 days.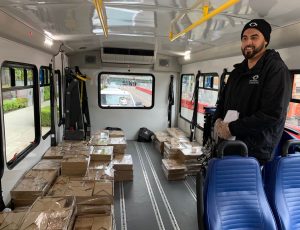 You can see some Sac Bee coverage on this effort here.
Finally, this last development is the most recent, which is an effort to support the City's 211 system with our call center. We are working specifically with the YMCA to develop a wellness check call for the 1700+ seniors to check on the need for food, medication and transportation using our down time in the call center due to reduced volumes which will then be channeled to the resource centers for aid.
How can young professionals support you?
As the demand for food access increases and delivery requests continue to come in, we will be looking for help in loading vehicles with the food packages and also possibly soliciting interest in people riding with the driver and placing the boxes on the doorsteps.
If you are a local business and want to share how you're responding to COVID-19, email us to share your story.