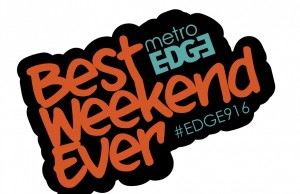 Metro EDGE kicks-off the "Best Weekend Ever" summer series this Friday to showcase Sacramento's ever-evolving cultural scene. Find out what happens when six young professionals (Emilie, Marycon, Matt, Megan, Michael, and Orville) stop being routine and start experiencing the 916; nine events, one weekend, and six young professionals! Here's a sneak peak on what's to come during #EDGE916.
We challenge you to top our "Best Weekend Ever" by grabbing your group of friends and signing up with EDGE Communications Committee Chair Michael Young here! Remember to follow us on Metro EDGE's social networks and the hashtag #EDGE916!
TGIF!
Think Downtown
Thinking about living downtown? You're going to need somewhere to live! City leaders will launch a downtown housing initiative this Friday with Mayor Kevin Johnson, Council Member Steve Hansen, Barry Broome, LaShelle Dozier, Clay Nutting and Kacey Lizon all sharing their perspectives on creating a vibrant and desirable downtown community. A Friday pep rally for Sacramento, we're in!
Concert in the Park
Friday Night Concerts in the Park are a benchmark for the beginning of summer. Hot nights, cold drinks, and great music - what's not to love? But let's face it, we know it's more than that. It's supporting local musicians and businesses. It's seeing Dancing Kenny shake his groove thing. It's being out in the heart of Downtown Sacramento with 1,000 of your closest friends.
Winemaker Dinner
We all know Sacramento declared itself America's Farm-to-Fork Capital, and this dinner is a celebration of that movement in practice. Hosted at the historic Sutter Club, regional wines will be paired with locally derived cuisine by the Sutter club's sommelier. What better way to enjoy the fresh veggies and protein from our very own region?
Paragary's Grand Opening
One of Sacramento's institutions is making its triumphant return to the restaurant scene. Paragary's is finally opening its doors after undergoing a stylish and contemporary make over. Like many in the region, we've missed dining on Paragary's back patio, enjoying a pleasant spring or summer dinner. This night will be like welcoming home a good friend after a long trip away. Cheers!
Hip Hip Hurray its Saturday!
Doggy Dash
Metro EDGE may have (we do have) the most adorable animals of any YP organization out there. This Saturday provides our puppies a chance to not only strut their stuff around Land Park, but to raise money for animals in need! It's going to be the must-see summer animal event.
Pops In the Park
Get your lawn chairs and picnic baskets ready for Pops in The Park! This Saturday at East Portal Park, marks the first of five event series for the whole family to enjoy. A Sacramento tradition since 1991, Pops in the Park is an opportunity to raise money for our under-funded neighborhood parks while bringing free, quality entertainment to the community.
Sac Republic FC
"Glory, glory, Sacramento…Republic's marching in and we are following along…to win the cup and stand alone, victorious and strong…!" Join us with discount tickets! http://goo.gl/I34h6g  Promo Code: SATURDAY
Sunday Funday!
Farmers Market
Farmers Market Under the Bridge (appropriately named) is located right under the Bright Underbelly! In 2014, Metro EDGE made an investment in the Bright Underbelly as part of the group's vision and commitment to strengthen and advance the Capital Region. We look forward to seeing the progress of this iconic public art!
The Golden Bear
Best Weekend Ever deserves the Best Brunch Ever - and Golden Bear delivers! Huge Breakfast Pizzas, Amazing Breakfast Burritos, and the Juicy Lucy offer some awesome bites for a Sunday Morning Brunch appetite. Bonus: Bottomless Mimosas!