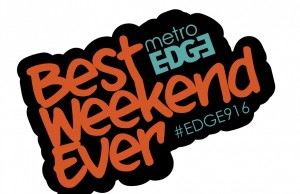 This is the true story … of six young professionals … picked to live out 1 loud weekend and share their stories … to find out what happens … when people stop being routine .. and start experiencing … the 916 … 9 events, 1 weekend, 6 young professionals. Best Weekend Ever!
Watch the campaign video courtesy of Spitting Image Media!
What would your "Best Weekend Ever" look like in Sacramento? For some, it might be a great dinner at Mulvaney's, followed by a Saturday night Republic match, and a Sunday on the river. For others, it might be volunteering their Friday with Reading Partners, checking out a concert Saturday, and hitting a few local breweries to close things out.
Whatever it is, Metro EDGE is going to shine a spotlight on Sacramento's growing cultural scene and wants your group to share your "The Best Weekend Ever" and use the hashtag #EDGE916.
What is it?  
The "Best Weekend Ever" is an effort to highlight nine events in one weekend by six young professionals. Using their social media networks, a group of six YPs would sign up to participate for one weekend this summer and post all that they're doing under the #EDGE916 hashtag. This would allow Metro EDGE and other young professionals to follow along, join in, or spread the story.
How we would share:
Metro EDGE would use their existing social media accounts on Facebook, Instagram, Twitter, and YouTube to highlight what each group is doing on the weekends.
Metro EDGE would also highlight the fun the previous and/or following week on the EDGE website and at member events through blogs, photo galleries, videos and more. We also hope to cross-promote using the digital channels of possible "Best Weekend Ever" partner organizations to expand the reach of the weekends and events that are being highlighted.
Who should get involved?
We want to hear from other YP organizations, local blogging groups, and simply you and your friends!
Restaurants, stores, sports teams and more could also get involved by inviting "Best Weekend Ever" groups to take part in a special event or sale to highlight new and/or improved items/food etc. They could also use the hashtag to share ideas and keep the conversation going. If your business is interested, please use the contact below.
Why do we think this is a good idea?
The "Best Weekend Ever" - #EDGE916 is a chance for Metro EDGE to use its networking community to get people to highlight the region's positive attributes while also serving as a social facilitator. YPs from across the region individually highlight their fun through their own social media networks, but this is an opportunity for EDGE to catalog those posts and encourage others to explore.
These weekends could be used to promote upcoming events, bring attention to new shops/restaurants/volunteering opportunities, and show Sacramento as a destination for young professionals from around the country. Contact Metro EDGE Communications Committee Chair Michael Young to sign your group up for a summer weekend today!