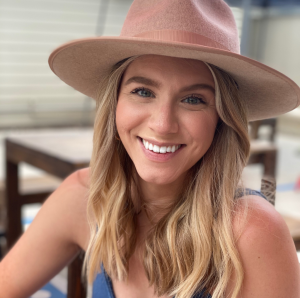 Hello, EDGErs, and Happy New Year. 
I am deeply humbled and proud to be your 2021 Chair and to be part of an organization rooted in doing good for Sacramento.
 2020 was… a year. The fallout from COVID-19, catastrophic economic downturns, senseless murders of Black Americans, and political upheaval cast a dark shadow on the last 12-months, and I want to take a moment to honor the people in our lives who have fought tirelessly for our safety and our humanity. We are indebted to the essential workers, the protesters, the public servants, and everyday people who stood together (six feet apart) to rise against the crushing tide of 2020. Several of those who stood up were current or past EDGErs, and my heart swells with pride to know that the young leaders in our region see what can be and will work to make it so.
I also want to thank Joe Hernandez (2020 Chair) for his foresight and intention in establishing a coalition of young leaders to spearhead EDGE's Diversity, Inclusion, and Belonging (DIB) efforts. Under his leadership and with Anna Fontus' inspiring guidance, Metro EDGE lay the foundation to become a space for all to be heard, respected, and celebrated. This effort has taken root and shape faster than any of us could have imagined, and it's in large part to the 2020 Leadership Council's fierce devotion to equity in our region. We're looking forward to expanding education on barriers to belonging and equality—by understanding and addressing looming challenges such as systemic racism, lack of access to basic needs, gentrification, and more, we will activate EDGErs to be agents of positive change in the Sacramento region. 
While last year shook us to our core, it also exposed who we can be. The tragedies and disappointments unveiled optimism and humanity in the unlikeliest scenarios – flickers of light in the darkest corners of ourselves. Not unlike the end of a movie where the heroes carefully dust themselves off and stare at the rubble and scrap from a city destroyed, we too are beginning to find our footing in this new world. It is with cautious optimism that we close the chapter of 2020 and open that of 2021 – a brand new space waiting to be filled with what makes us good and human. While we are not out of the woods yet, as we are seeing heartbreaks continue to unfold, we are surely on our way. 
EDGE will demonstrate what makes us good and human in 2021 by: 
-      Doubling Down on Belonging: In 2021, we have expanded our Leadership Council's (LC) capacity to do the critical work of educating our young professionals on ensuring belonging and empowerment for all people wherever they are in the world. Please look out for dedicated programming, thought leadership, connections, and more from our DIB content experts on how you can strengthen intention to advance this work, and to address systemic roadblocks.
-      Ensuring Access Beyond the Grid: We will continue to invest in ways to make programs and opportunities for young leaders' development in the region accessible beyond midtown or downtown Sacramento. We will do this through the use of expanded virtual forums that ensure the public's safety and the availability of content beyond The Grid. We will also work to identify common barriers to membership and event attendance and remove them through sponsorship opportunities and scholarships.
-      Recommitting to Giving: We have recommitted ourselves to philanthropy and giving in its many forms, including expanding volunteer opportunities where possible and engaging with 2021's Inspire Giving grant recipient in a more meaningful and impactful way. This means we are actively seeking ways for EDGErs to step in and up to support small businesses, community leaders, and organizations who are the backbone and embodiment of Sacramento.
-      Inspiring Through Innovation: To ensure EDGE maintains its "edge", we will seek partnerships and opportunities that allow us to be future-forward and break new ground in the greater Sacramento region. This means we will commit to advancing our region's capabilities and capacity for growth, starting with the young professional. 
Our 2021 Leadership Council put these commitments in place, and I am already tremendously proud of the work they are doing. Each Chair and Co-Chair brings a unique skill set, background, and set of ideas that will contribute to EDGE's growth in the community and beyond. 
Our impact will not happen overnight. It will surely take weeks to learn, quarters to implement, and months to evaluate. But we also know it can take days to destroy if not meticulously nurtured and fearlessly led. That is why I am asking you, EDGEr or interested reader, to dust yourself off, honor where we have been, and recommit with us to doing what is right for our region, for our communities, and ourselves. 
And in exchange, EDGE will work tirelessly to raise the profiles and voices of our community members; pass along the teachings, wise words, and advice from local industry titans; reinvest in our people and communities; and be the dedicated space that YOU can be YOU, at all times. 
I look forward to the work we can accomplish together.
 Let's get started. 
Taylor Toledo-Kearns
Metro EDGE Program Chair, 2021
Connect with Taylor on LinkedIn!