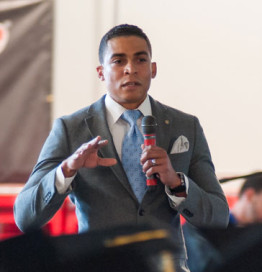 Dr. Clarence Marcus Lee, Jr. is the CEO of CMLEEJR Co., a global leadership and performance consultancy that helps people live a purpose-focused life. Founded in 2010 by Dr. Lee, who recently has been recognized by Sacramento Business Journal as one of the top 40 under 40 professionals in the city, CMLEEJR Co. is leading the way in teaching personal empowerment to students and professionals alike.
Dr. Lee is a nationally celebrated author and international speaker that inspires organizations, teams, and students to find their purpose and live it daily. He produces, composes, markets, and delivers high quality content to students and young adults throughout the US and around the world. CMLEEJR Co.'s clients include: State Farm Insurance, Drexel University, Dominican University, Universal Technical Institute and many others. EDGE is excited to welcome Dr. Lee to speak at the Emerge Summit on Friday, March 27.
What excites you about speaking at Emerge?
I'm excited to connect and inspire a city and group of young game-changers. I use my gifts of encouragement and challenge to push folks toward their goals and speaking at Emerge will allow me to do just that. It's also nice to have a primed crowd. People are attending to advance themselves, so I'll be ready to light them up!
What is your secret to #owningit?
Believing in yourself is key to #OwningIt. We all can fall prey to the "imposter syndrome" every now and again. The idea is to believe in your abilities enough to impress your peers, and the world around you. By believing that you are enough, you are capable of making a tremendous impact. I always believed I was capable, and I've taken that attitude with me in every challenge I've faced. I also have been blessed to have a great support system that enabled me to pursue my dreams, and at times fail, in a safe, accepting environment. In my first book, "Well, My Mom Says…" the central message is based around how my mom helped me #Ownit.
Why do you choose Sacramento? What do you think YPs can do to "Own" our city?
My wife and I always loved the area, but we came here on our military commitment. We've decided to make it home because this is one of the best states in the US. Being the state capitol, policy leaders and decision makers are constantly making positive changes happen, and we wanted to be a part of it.
I think the biggest thing YP's can do is to get involved, join organizations, and network. I've been here a few years and have met some great people, but not without putting myself out there. YPs should talk to people, let others know what you do, and articulate your passions. The key to "owning it" is to articulate your value and let people know what you're about! I've been blessed to have shared my message at Drexel University, William Jessup, and several other schools in the area. My advice is to share your skills and talents, and donate time to the community!
Part of our manifesto is, "Own your Community." What does that mean to you?
To me, that statement means show up and be a part of something bigger. It's easy to say, or to believe the saying, "That's just the way it is…" but owning a community is taking a piece of that responsibility upon yourself. We live here and it's our jobs to offer our talents, make a difference, and serve. Communities continue to thrive with engaged and involved YPs. I'm currently involved with a Sacramento organization called Shoulder-to-Shoulder. I grew up without my dad at home, so I was drawn to their mission of ending fatherlessness in Sacramento.
What is next for you?
I am passionate about improving and impacting people's lives. I do this through my books, speaking engagements, and coaching. 2016 will be the first year of CMLEEJR Co.'s live events! This idea of pressing people to live and be their best is my core belief. I practice medicine with this philosophy, and have built my business doing just that. What's next for me in two words? More impact!
Don't miss Dr. Lee and out other great Emerge Summit speakers. Get your tickets today!