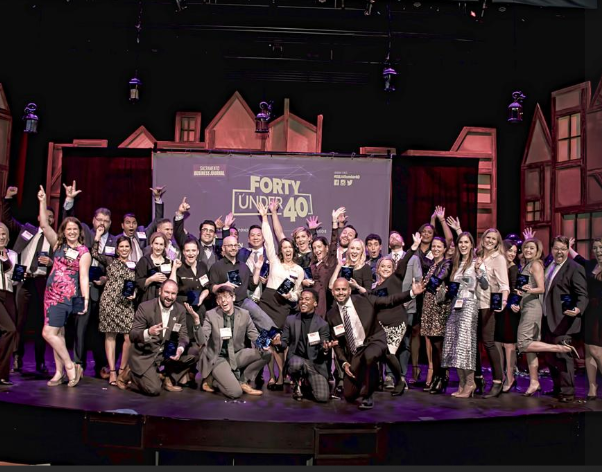 Professionally they are known as directors, board members, and presidents of various companies and organizations in Sacramento, but universally these leaders are known as major shapers of the Sacramento we know and love. Every fall, the Sacramento Business Journal debuts a new list of 40 under 40 designated as young professionals who are being recognized for their career accomplishments and community service.
When reading the accomplishments of awardees, their source of inspiration is clearly the community around them. It's also evident they've achieved a mix of milestones, from becoming vice presidents to launching changemaking grassroots campaigns. Our personal favorites are the leaders that are recognized for their ability to inspire Sacramentans from different places in the community and stages of their professional life.
10 years ago, Metro EDGE started with a mission to make Sacramento a place for young professionals to thrive and stay long term. Along the way, EDGE decided to play a bigger role in Sacramento by providing programming and leadership opportunities to develop, refine, and expand skill sets that support young professionals in improving their careers and building the community.
Why? Metro EDGE, the Sacramento Metro Chamber, and several local companies agreed that young professionals were a were consistently overlooked population that warranted better investment for the advancement of the region. Hundreds of members later, it's no surprise that 20% of 40 under 40 awardees are current or former Metro EDGE members, and that's not including those who have presented at EMERGE, Executive Insight, and our other learning sessions.
We want to take a moment to congratulate the 2019 40 under 40 awardees who are involved with Metro EDGE:
Joseph Hernandez, Director of Client Relations, Premier Healthcare Services, 2020 Metro EDGE chair
Chad Roberts, Attorney, Hefner Law, 2019 Emerge Summit Chair
Laine Himmelmann, Director of Development, Habitat for Humanity
Amberlee Rosen, Founder and Director, Breakroom Fitness
Carlos Marquez, Senior Vice President of Government Affairs, California Charter Schools Association
Allison Kephart, Director of Legal Services, WEAVE
Joelle Terry, Senior Vice President of Communications, Sacramento Kings
Lindsey Goodwin, Vice President of Public Affairs, Randle Communications
Robert Baca, Executive Director, Sacramento Cannabis Industry Association
They will be honored at the November 19th 40 under 40 celebration event.
Finally, check out the full EDGE 40 under 40 list below:
2018: Anne Descalzo (2019 EDGE Chair), Christine Mahon (2018 EDGE Chair), Giuliano Kornberg, Kachet Jackson-Henderson, Sarah Pollo, and Shawn Dhillon
2017: Veronica Smith, Todd Koolakian, Megan Laurie, Megan Blackwell, Eric Ullrich, Ebony Chambers, Allen Archuleta Jr
2016: Tre Borden, Talia Kaufman, Nick Berreuezo, Lindsey Fudge, Justin Knighten, Jordan Blair, Jennifer Ablog, Cornelious Burke, Allison Joy
2015: Rachel Zillner (2017 EDGE Chair), Shiloh London, Tony LaPalca, Veronica Delgado, Nathan Trauernicht, Lawrence Luong, Kelly Rivas, Katie McConnell, Julius Austin, James Shelby, Gloria Petruzzelli, BJ Snowden
2014: Christine Calvin (2016 EDGE Chair), Deepak Aswani, Jennifer Capitolo, Melissa Williams, Phil Tretheway, Rachel Bardis, Stephanie Rice
2013: Verna Sulpizio-Hull, Peter Tateishi, Noli Snowbar, Joseph Devlin, John Lockwood, Jeffrey Louie, Greg Forest, Bernadette Austin
2012: Emilie Cameron (2014 EDGE Chair), Michael Marion (2015 EDGE Chair), William Jahmal Miller, Toby Marsh, Liz Salmi, Kyle Glanker, Jeff Savage, Erica Taylor, Alisa Okelo-Odongo, Jim Alves
2011: Ryan Porter (2013 EDGE Chair), Sean O'Brien, Nancy Bui-Thompson, Michael Broughton, Mark Adams, Cyril Shah, Mark Adams, Christina Chin, Callista Wengler, Becky Johnson, Ardie Zahedani
2010: Steve Hansen, Patrick Molloy, Autumn Heacox, Ashley West
Cheers to ten more years! A special thanks to the Sacramento Business Journal for promoting young leaders in Sacramento alongside Metro EDGE.