Get to know the amazing people who make up Metro EDGE with this 15 Minutes of FAME (Faces At Metro EDGE)! Enjoy!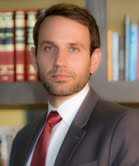 Matthew D. Roy
Law Offices of Matthew D. Roy
Email Matthew
1.       Where do you currently work, how long have you been there, what do you do?
I am a general practitioner with the Law Offices of Matthew D. Roy.  We are a small boutique law firm that focuses on family law (Divorce, Child Custody, and Domestic Violence) and personal bankruptcy (Chapter 7 and Chapter 13).  I opened the firm in 2010.   My office also handles criminal defense, probate, and simple estate planning needs.
2.       Prior to that?
I opened my law firm approximately 10 months after being sworn in as a member of the State Bar of California.  I graduated in the worst economy since the great depression so while I couldn't find a job I volunteered for the Los Angeles County Bar Association's Domestic Violence Project (DVP).  At the DVP I helped prepare restraining orders for victims of domestic violence and got to represent them in court.  It gave me great experience working with people and going to court on a weekly basis.  Prior to Law School I was a Series-3 licensed commodities broker.
3.       What is your educational background?
JD From University of thePacificMcGeorgeSchoolof Law – 2008
BA in Government from Sac State - 2002
4.       What is the best part of your job?
Getting to work with clients and helping to resolve their problems.  Some of my clients find themselves in serious financial trouble.  It feels good seeing that I can help relive some of their stress and focus on the more important things in life.
5.       What do you love about living here?
Sacramentohas a distinct personality and a quite a bit of charm to it.  I love the rivers and the trees (except come springtime) and the fact that we actually experience seasons.  None of them are too extreme.  We also have good restaurants and a bourgeoning art scene.  The people, though, are really what makeSacramentoa great place to live.
6.       What is one thing that might surprise people about you?
I speak Spanish fluently.
7.       When you aren't in the office where can we find you?
These days you can find me on the campaign trail!  I am running for a seat on the Sacramento City Charter Commission.  Talking to residents and meeting with businesses and community groups takes up most of my free time.  Luckily, I love meeting people and this type of campaign really energizes me.