Get to know the amazing people who make up Metro EDGE with this 15 Minutes of FAME (Faces At Metro EDGE)! Enjoy!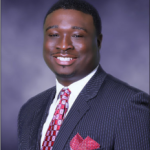 Wm. Jahmal Miller
Regional Manager for Strategic Marketing & Employer Relations
Sutter Health – Sacramento Sierra Region
Education:Columbia University, BA – Psychology, c/o 1998; The University of Southern California, Masters Degree – Healthcare Administration, c/o 2002
What is the best part of your job? Being on the outside of the 4 walls of my office and strategically engaging and working closely with the employer business community. I love to interface with people. Being out in the business community, keeps me informed on what employers, employees and consumers are demanding of our healthcare system.
What do you love about living here? Sacramento is my home. I was born and raised here. This is a richly diverse place that is growing in healthy increments. We are not a major metropolis but it's grown into an attractive region that has several extracurricular options. The family-oriented nature of Sacramento is one of the best in the country.  There's much to be proud of here in Sacramento.
When you aren't in the office where can we find you? Golf course, reading or 24hr. Fitness