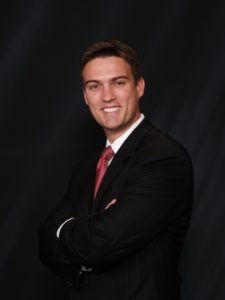 Where do you currently work, how long have you been there, what do you do?
I am a Financial Advisor at Merrill Lynch. It's shocking to have been with the firm for 10 years… I help clients with everything from investing for retirement to 401k plans. Have you set up your 401k? If your company matches 401k contributions and you haven't set up your account yet, you are throwing away money!
What is your educational background?
I am a graduate of Jesuit High School and St. Mary's college.
What do you love about living here?
Sacramento is a really special place and it has been great watching it grow. I remember for high school dances we would never go downtown because there was, "nothing," down there. Now there are too many great places to list, but the main thing I feel is downtown and midtown are a wonderful community.
What is one thing that might surprise people about you?
The first thing that comes to mind is that I may never leave Metro EDGE….I will officially be, "that guy…" Ha! I've been a member for 8 years…If you are reading this and are new to the group, send me an email and I will show you around at the next event and make sure you meet a lot of great people. I don't want to get too sappy…but the friends I have made through EDGE will be friends for life.
When you aren't in the office where can we find you?
I am a newlywed, so hanging out with my lovely bride and watching NASCAR. I never miss a race, and my poor supportive wife sits by my side on her Ipad : ) At least she has been enjoying watching Danica Patrick!