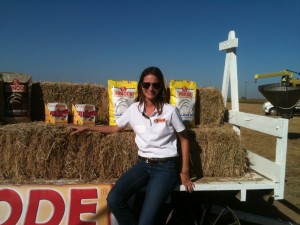 Rosie Echeverria
Trade Marketing and Export Specialist
SunFoods, LLC
Email Rosie
Where do you currently work, how long have you been there, what do you do?
I work at SunFoods, LLC, located in Woodland, CA.  We are the miller and marketer of Hinode Rice. I've worked at SunFoods almost four years and have been fortunate to get to be involved in many aspects of the business including export, customer service and currently trade marketing and sales.
Prior to that?
Prior to working at SunFoods, I worked for another rice company doing sales/marketing for about four years. I have also have worked in real estate and still keep my license current for opportunities that come up from time to time.
What is your educational background?
I hold a B.S. in Agribusiness from Cal Poly, San Luis Obispo.
What is the best part of your job?
I'm really lucky to work with some great people both from our office and from outside entities that we work closely with. I especially enjoy meeting our growers and hearing about their farming operations.  For the majority of them, farming is not only a job, it's a lifestyle-one which I've really grown to respect and admire.
What do you love about living here?
I grew up locally in Dixon so I love the feeling of "being home." I also enjoy the fact that in the same night I could enjoy an elegant dinner in downtown Sacramento followed by a trip to the world record corn maze; all within a half hour of where I live. Best of both worlds I guess you could say.
What is one thing that might surprise people about you?
Ask me where I want to eat and 50% of the time I'm going to choose In-N-Out Burger.
When you aren't in the office where can we find you?
I enjoy spending my free time with my family, friends and pets. I also enjoy running, horseback riding and cooking.