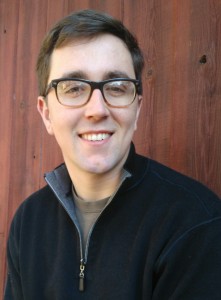 Michael Jensen
Project Engineer
Barrish Pelham
Where do you currently work, how long have you been there, what do you do?
I just finished my first year at Barrish Pelham, a structural engineering consulting firm over by McKinley Park. I work with a variety of architects on the design of local schools and commercial buildings, ensuring structural safety for their occupants. It's a highly rewarding job but definitely one that is taken for granted by the general public.
Prior to that?

Full-time student and part-time karaoke singer.
What is your educational background?
Bachelors in Architectural Engineering from Cal Poly San Luis Obispo.
What is the best part of your job?
The people I work with it. We are a smaller sized firm so everyone treats each other like family. I've learned a lot this year thanks to the guidance of my coworkers.
What do you love about living here?
The weather, the local beer scene, the vicinity to Tahoe, XOSO sports, the list goes on and on. Mostly I enjoy the pride people have from living here, and the energy they put into making Sacramento the best town it can be. It's very tangible.
What is one thing that might surprise people about you?
The number of corn dogs I can eat in one sitting.
When you aren't in the office where can we find you?
I am typically doing one of three things:
Riding my scooter, D'Angelo, around the streets of Sacramento
Hustling people on the newly remodeled Roosevelt basketball courts
Reading a book at Naked Lounge, pretending to be sophisticated