Casey Gray
Senior Manager, Individual Giving and Special Initiatives
United Way California Capital Region
Metro EDGE Philanthropy Committee Member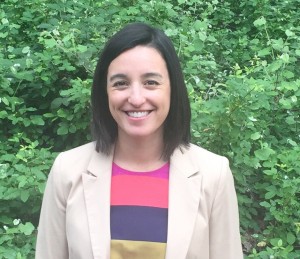 Where do you currently work, how long have you been there, what do you do?

I am the Senior Manager of Individual Giving & Special Initiatives at United Way California Capital Region, and I've been here for almost a year and a half. As a nonprofit fundraiser, I help secure financial and volunteer support for United Way's community impact work, and manage our special initiative groups – Women in Philanthropy and the Young Leaders Society. United Way's Young Leaders Society is our young professional group focused on philanthropy and community service. This year, we're working on a project called the "YLS Hydration Station Initiative" to decrease obesity and increase overall health for 2,500 students in Sacramento through proper hydration. United Way's Women in Philanthropy is a group of more than 200 women who ensure that foster youth in our community are prepared for life as they transition into adulthood. Whether it's financial support or life-skills coaching, Women in Philanthropy members assist teens as they are emancipating from the foster care system. I oversee the monthly volunteer projects, quarterly social/networking events, and fundraising efforts for both of these groups. Every day I get to work with really awesome, passionate donors and volunteers who want to make life better for someone else. It's so much fun!
Prior to that?

Before joining United Way, I was a Fund Development Manager at Girl Scouts Heart of Central California here in Sacramento. It was such a great place to grow in the nonprofit fundraising field and to advocate for a cause I believe strongly in – leadership development opportunities for girls from all backgrounds.
What is your educational background?

I have a degree in Communications-Journalism from Sonoma State University. Go Seawolves! I'm also an AmeriCorps VISTA alum and although AmeriCorps isn't an academic program, it was the most educational year of my life.
What is the best part of your job?

Nonprofit fundraising can be really challenging. You get rejected a lot, and you have to learn to ignore the word "no." But my job comes with the ultimate motivation and inspiration to keep moving forward: improving people's lives and making Sacramento a better place for everyone. I was lucky to have supportive parents, a quality education, and a safe place to grow up. The least I can do is pay that forward for children and families in our community. Every day at United Way I'm given the opportunity to do that. Knowing I'm making a positive impact, and having fun doing it, is the best part of my job!
What do you love about living here?

My favorite thing about Sacramento is that even though it's a city with a big impact state-wide, it has a small town feel in the sense that everyone is so connected. Everyone who lives and works here really cares for our city and wants it to succeed.
What is one thing that might surprise people about you?

I married a San Diego Padres fan! I'm a Bay Area native and a third generation San Francisco Giants fan, so this is even surprising to me every time baseball season comes around.
When you aren't in the office where can we find you?

Hanging out by the pool, hiking, trying new restaurants with my husband, spending time with my family and friends in Folsom, and wine tasting! And full disclosure: I watch a lot of Bravo! But I try to always have a craft project to work on simultaneously, so it isn't a complete waste of time and brain power. Right now I'm crocheting baby blankets for Project Linus, a great organization that gives homemade blankets to children in hospitals, shelters and other social service agencies.