Anne Descalzo
Metro EDGE Philanthropy Committee Co-Chair
Supervisor, Community Banking
SAFE Credit Union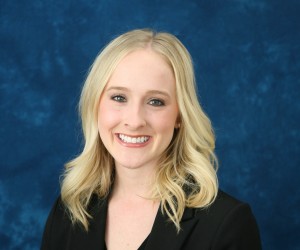 Where do you currently work, how long have you been there, what do you do?
I've been fortunate enough to work for SAFE Credit Union since late 2005.  I was a teller throughout college. In 2011, I moved to the Bay Area to follow my heart.  During that time, I commuted back to work in Sacramento until it became too much. I returned to work at SAFE in the summer of 2012 after a few months hiatus. I now oversee the Community Banking division, mainly the Community Engagement Representatives that do over 600+ events a year.
Prior to that? 
In high school, I taught recreational gymnastics to school aged children for the Southgate Parks And Recreation District. It was the best first job, but not sustainable.  After that, I did a short stint at Macy's - I have much respect for retail employees.
What is your educational background?
I am a proud alumna of CSU Sacramento, I hold a BA in Journalism, with a minor in Business.
What is the best part of your job?
Monday's don't suck; I actually love going to work. I have the ability to let my skills flourish in my role. I maintain our involvement in the community, working with like-minded organizations that make our region a better place to live, work and play. My leadership subscribes to the philosophy of discovering their employee's strengths and placing them where they are happy and it couldn't be more true for me!
What do you love about living here?
My love affair for the Sacramento region has been a long one; I was born and raised here. I love the diverse culture, amazing eateries and the climate - hot and cold.
What is one thing that might surprise people about you?
My big life moments have happened internationally.  I got engaged in Rome and was married in Costa Rica.  I think I'll end that tradition this spring by birthing my son here in town.
When you aren't in the office where can we find you?
I love spending time with my husband and dogs. They're a rowdy bunch (the dogs, that is). We like to keep them active with visits to Folsom Lake and the American River. In the next few months, I'll be preparing for the newest addition to our family and renovating a house we are in the process of purchasing…no rest for the weary in 2015.