Get to know the amazing people who make up Metro EDGE with this 15 Minutes of FAME (Faces At Metro EDGE)! Enjoy!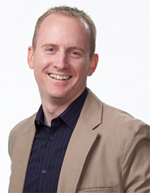 Phil Tretheway
Senior Designer
Marketing by Design
EMAIL PHIL

Tell us about your current position? I have worked for Marketing by Design for almost 9 years. I started as a designer and that role has grown to include project management and business development as well. Working for a small business has allowed me a great breath of experience designing and managing cookbooks, annual reports, advertising, packaging, educational guides, banners, websites and much more.What is your educational background? I have a degree in Graphic Design and a Minor in Marketing from California State University, Chico.
What is the best part of your job? The big thinking: the strategy, messaging and ideation stage is very rewarding for me. That and photo shoots; escaping my desk to work with people and/or food is a lot of fun.
What do you love about living here? I grew up in South Natomas and thought Sacramento was pretty lame in high school. But you think everything is lame in high school. I came back after college and love it. Midtown and all of the restaurants are great. It's a very live-able city with lots of passionate people and amenities.What is one thing that might surprise people about you? Many people know I love cooking, but most are surprised when they find out I hunt duck and pheasant as well. I took it up a few years ago to spend more time with my dad and get more connected to the food I eat.When you aren't in the office where can we find you? At the farmers' market with my wife and 3 year old son; grilling with friends; mountain Biking in Tahoe; in the middle of a river fly fishing; sitting on the couch watching John Stewart or Top Chef.