Get to know the amazing people who make up Metro EDGE with this 15 Minutes of FAME (Faces At Metro EDGE)! Enjoy!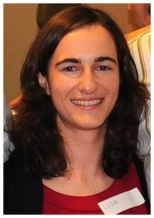 Lisa Porta, PE
CH2M HILL
EMAIL LISA

Tell us about your current position?
I work at CH2M HILL, a global full-service engineering consulting and design firm. I joined the firm 4 years ago, starting at the headquarters in Denver, before moving to Sacramento in 2009. I am a water resources engineer, primarily working on water supply, water quality, and groundwater studies involving numerical models.
Prior to that?
This is my first job out of graduate school.
What is your educational background?
I obtained a BS in Biological Systems Engineering from Texas A&M University, and a MS in Environmental Engineering from the Colorado School of Mines.
What is the best part of your job?
The challenging projects and the people I work with. I am surrounded by smart, passionate, dedicated, and fun people. The opportunities to work on really cool projects and the amazing network of young professionals we have across North America. Also, I feel like I am doing something to help make this world a better place.
What do you love about living here?
The quality of life and the diversity of activities with being so close to mountains, ocean, wine country, rivers, lakes, parks, and other fun cities. I also love the great food! And Sacramento has so much potential for us young professionals; I am happy to be part of such a bright and energetic group of people.
What is one thing that might surprise people about you?
I have a slight accent and people have a hard time guessing where it is from. So here is the secret: I grew up on the French Mediterranean island of Corsica, and I have a German mother
and an Italian father. I moved to the US 10 years ago.
When you aren't in the office where can we find you?
Supporting local businesses in downtown/midtown, at Pipeworks climbing gym, or exploring NorCal (the various wine countries, the Bay Area, the Sierras and ski resorts). I am also an active member of the Engineers Without Borders Sacramento Valley Professional Chapter.