Get to know the amazing people who make up Metro EDGE with this 15 Minutes of FAME (Faces At Metro EDGE)! Enjoy!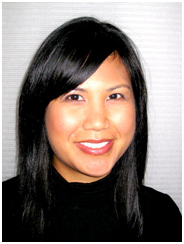 Lisa Martinez
Director of Marketing & Outreach
Downtown Sacramento Partnership
EMAIL LISA

Education:
DePaul University, Chicago
BS in Marketing
1. Tell us about your work history. I have managed the marketing and special events departments for the Downtown Sacramento Partnership (DSP) – a private, non-profit Property Based Improvement District (PBID) dedicated to the improvement of Downtown Sacramento for the past six years. My responsibilities range from managing all of DSP's communication channels, PR campaigns, advertising and co-operative marketing campaigns, and stakeholder relations to forecasting budgets and sponsorship recruitment for DSP's signature events including Concerts in the Park, Downtown Ice Rink, Dine Downtown and State of Downtown. Prior to that I worked in the financial services industry for three years with State Farm in Chicago.
2. What is the best part of your job? It's hard to single out just one thing. I love having the opportunity to work so closely with the people who make our city great from independent business owners in the Downtown District to developers, property owners and elected officials. We've built a great culture of collaboration and we're all committed to the same mission – building a vibrant Downtown for the Sacramento region. But, what really keeps me going is being able to make a difference in my community.
3. What do you love about living here? I love the culinary experience of Sacramento – from the farmers' markets to the local restaurant scene. Sacramento is a foodie's dream. It's incredibly eclectic and it says a lot about our city's character. We have access to incredible variety of locally sourced ingredients year round that inspires local chefs. We've got our share of fine dining as well as ol' mom & pop dives that never go out of style. Plus, Sacramento also has amazing ethnic food markets and restaurants if you're feeling adventurous.
4. What is one thing that might surprise people about you? I ran the CA International Marathon in 2008. I may not be the fastest runner out there (I think I walk faster than I run), but you'd be surprised how far a healthy dose of determination can take you.
5. When you aren't in the office where can we find you? The obvious answer – anywhere on The Grid. I live and work Downtown and try to avoid driving at all costs. You miss out on so much of the city when you're confined in the car.
More specifically though, you'll likely find me in the kitchen or a farmers market. Well really – any place where I can experience good food.