Get to know the amazing people who make up Metro EDGE with this 15 Minutes of FAME (Faces At Metro EDGE)! Enjoy!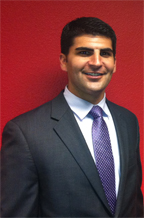 Jake Mossawir
Public Relations Director
Moroch
EMAIL JAKE

Tell us about your current position? We are a Dallas-based marketing firm.  I have been at Moroch for 4 years and Direct the Public Relations Department for our Sacramento Office.  McDonald's restaurants of Northern California, the Central Valley and Northern Nevada are my major clients and I spend much of my time in my car out in those communities.
What is your educational background? I have Bachelors Degrees in Political Science and African-American Studies from UC Davis. I plan on starting my Masters Degree in Political Management from George Washington this Fall. 
What is the best part of your job? My job allows me to get out in the community and work with a diverse group of people, which I love.  I put over 30,000 miles on my car last year traveling all over the region learning about and listening to the concerns and challenges that our community faces as well as many of the successes and good work that is being done to better our region.  I have the pleasure of looking for ways that my clients and I can help be a part of the solution to these issues. In doing this, I'm constantly surrounded by talented, smart people.  I have found that being surrounded by people who are smarter and more talented than me makes me better and I really value those opportunities. 
What do you love about living here? What's not to love?  I'm a transplant from San Jose and live in Land Park, and while I miss the Bay from time to time, I love it here.  I love that I can drive south on 19th Street in Midtown, an urban environment surrounded by great local restaurants, bars and art galleries, down Freeport through the suburban communities of Land Park and Curtis park with all of the beautiful tree lined streets and old homes, past the Executive Airport and end up alongside the river in a rural environment headed towards the Old Sugar Mill to taste wine all in just a matter of minutes. 
What is one thing that might surprise people about you? I used to weigh 260 pounds when I was captain of my college football team . . . I also have no sense of smell, but it hasn't stopped me from enjoying food.
When you aren't in the office where can we find you?  In midtown, on my beach cruiser, wearing my San Jose Giants hat.  My Beach Cruiser was easily the best purchase I have made in the last decade, minus my Nerf guns. . .