Get to know the amazing people who make up Metro EDGE with this 15 Minutes of FAME (Faces At Metro EDGE)! Enjoy!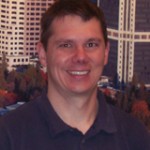 Charles Krafka
Civil Engineer
Cunningham Engineering Corporation
Education: Bachelor of Science, Civil Engineering UC Davis.Work History: I served four years active duty in the Marine Corps, and after that I worked a few jobs while working myself through college including a couple internships and construction.
The best part of your job: Working on development projects which have become destination spots for Sacramento. For instance, it is great to hear someone say they are going to the MARRS building for dinner and drinks knowing that I was part of the design team for that building.What do you love about living here?  Sacramento is one of those unique cities which offers plenty of entertainment, but has the feeling of a close community where everyone is friendly.
One thing that might surprise people about you? I met my wife of over 10 years when we were both teenagers at a Denny's in Hawaii.When you aren't in the office where can we find you? Lately, most of my time is spent at home helping my wife take care of our 5-month-old daughter and 4-year-old son.