Get to know the amazing people who make up Metro EDGE with this 15 Minutes of FAME (Faces At Metro EDGE)! Enjoy!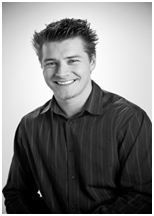 Brad Boekestein
Online Market Manager
Vision Service Plan
EMAIL BRAD

Tell us about your current position?  I've been with Vision Service Plan (VSP) for 5 months. There, I oversee all of VSP's Provider websites. 
Prior to that? I worked for a pair of great marketing firms – 3fold Communications and Wallrich Landi. Those two places provided wonderful opportunities for me. 
What is your educational background? I went to Azusa Pacific University in Southern California. I had signed to play baseball at Pepperdine, but switched to APU at the last minute. I met my wife there, so I'd say it worked out pretty well. 
What is the best part of your job? The opportunity I have to improve the online experience for our network of 27,000 doctors.  It's exciting to know that my team can help elevate doctors' opinions of VSP by making it easier for them to do business with us online. Either that, or the putting green outside. 
What do you love about living here? It has to be clean air, the strangely nice people and lack of traffic. I grew up in LA and had a complete culture shock when I moved up here. I didn't understand why people were being so nice to me and where all the cars were at rush hour. 
What is one thing that might surprise people about you? I've never had a full cup of coffee in my life. It smells/tastes like cough syrup to me. 
When you aren't in the office where can we find you? Likely at home hanging out with my wife and 1-year-old girl, playing softball with my friends, or reading some type of business or finance book.