Get to know the amazing people who make up Metro EDGE with this 15 Minutes of FAME (Faces At Metro EDGE)! Enjoy!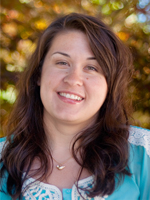 Angie Pappas
California Restaurant Association
EMAIL ANGIE

Tell us about your current position.  For the past three years, I've worked in marketing and communications for the California Restaurant Association. 
Prior to that? I worked at The Sacramento Bee where I was an editor/designer.  
What is your educational background? I studied communications at Whitworth University in Spokane, Washington.
What is the best part of your job? Working with some of the funniest, most talented, creative people I have ever known. (Hoping they don't see this and have their egos inflated even more.) I also  get to meet, interview and collaborate with incredibly interesting and passionate restaurateurs and entrepreneurs daily, which is endlessly fascinating.What do you love about living here? There's so much to love about Sacramento, but being able to live, work, shop, eat and drink on the grid feels like a real luxury. There are bigger cities, but there's no place like Midtown.
What is one thing that might surprise people about you? I dabble in athleticism. I'm not very good at anything, but recently stuck with activities that really speak to me. One is cycling – I try to get on the American River Bike Trail whenever I can, and rode my first century this year. And yoga is a must. 
When you aren't in the office where can we find you? Probably out supporting the restaurant industry in a personal capacity. I've never met a patio I didn't like – and only here can you enjoy dining al fresco year-round.