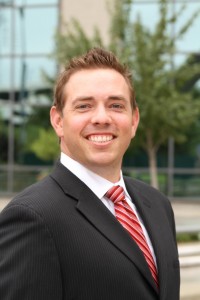 Brian Stenklyft
Employee Benefits Consultant
Arthur J. Gallagher & Co.

Where do you currently work, how long have you been there, what do you do?
While I've been in the industry for more than a decade, I am relatively new to Gallagher having been here just 2 months.  As an Employee Benefits Consultant, I spend my day working with small & medium size companies developing a benefits strategy to help them achieve their organization goals.  This can include consultation around plan offering, cost management, compliance, administration, and a variety of other areas.
Prior to that?
Before coming to Gallagher, I worked briefly for Wells Fargo Insurance Services.  But the majority of my career was spent with BeneTrac, a benefits administration system designed to help companies streamline the administrative burdens of managing an employee benefits program.
What is your educational background?
California State University, Fresno.  Bachelor of Arts, Organizational Communication
What is the best part of your job?
I thrive on solving problems/achieving goals.  I get to do that every day as an Employee Benefits Consultant.  Whether a company is looking to attract new employees, manage costs, or is looking for help with a compliance issue, my job to bring solutions and I love it!
What do you love about living here?
There is no other place I'd rather live than in the greater Sacramento area.  Yes, being centrally located between Lake Tahoe and San Francisco is wonderful, but what makes Sacramento great is everything else the region has to offer.  Whether it's enjoying one of the many farm-to-fork restaurants, biking the American River Trail, cheering for our beloved Kings, appreciating the art scene, learning from one of the many colleges & universities, or searching for a lost ball on one of the numerous golf courses - Sacramento has something to offer everyone.
What is one thing that might surprise people about you?
In 1981, Gerber voted me the 2nd most beautiful baby in the country.
When you aren't in the office where can we find you?
If I'm not at an event for one of the many organizations I'm a part of, chances are good that I'll be in my garage channeling my inner Bob Vila, over complicating a home improvement project.