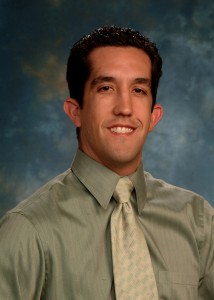 Nate Sebok
Associate Architect
Mogavero Notestine Associates
Email Nate 
Where do you currently work, how long have you been there, what do you do?
I am an architect at Mogavero Notestine Associates. I have been here about eight years. We specialize in sustainable design and urban infill. Some of our notable projects downtown are the new Greyhound station and the eight story residential mid-rise on 7th and H street. I am currently managing the design and construction of a market rate apartment complex that is across the street from Raley Field. The second phase will have outdoor decks to watch the ballgame from. It has been a very exciting project.

Prior to that?
My wife and I moved to Boston for a while after we graduated, knowing we would eventually come back to California. From there, we moved to Sacramento and I bounced around a couple firms trying to find a good fit.
What is your educational background?
I went to Cal Poly San Luis Obispo and graduated with an undergraduate degree in architecture and a MBA. I miss SLO a lot, it was a perfect place to go to school.
What is the best part of your job?
I get to have a tangible impact on our city and the way it will grow. Our work has a significant influence on how people live, work and play; it's exciting to be a part of that and help people lead healthier lives.
What do you love about living here?
I like how close it is to so many things. My family and I often go to Tahoe, Napa, and San Francisco.
What is one thing that might surprise people about you?
A few years ago, I biked across the state of Colorado; all off road. It was one of the hardest things I have ever done.
When you aren't in the office where can we find you?
On a mountain bike in Tahoe, or less frequently, on a beach in Cabo with some good tequila.