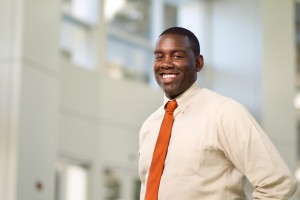 Jose Bodipo-Memba
Environmental Project Manager
SMUD

Tell us about your current position? My focus is on Wind Energy Projects and CEQA (California Environmental Quality Act)/NEPA (National Environmental Policy Act) Compliance.
Prior to that?  Senior Project Manager at PBS&J

What is your educational background? B.A. History from UC Berkeley.  I will complete my MBA at Drexel University in September 2012.
What do you love about living here?  I love the quality of life we enjoy here in Sacramento.  We have  a great mix of urban, suburban, and rural environments that is hard to find anywhere else. Plus, despite recent economic setbacks, I really believe that Sacramento offers young professionals with unique opportunities for personal and professional growth due to the relatively close knit network. I am truly excited about being a part of the next chapter of Sacramento's evolution.
What is one thing that might surprise people about you?  I am a stand-up comedy nerd.  I love to laugh and love going to live shows at all of the local comedy spots (Laughs Unlimited, Tommy T's, Punchline).  If a comedian can bring me to tears, I'm sold!
When you aren't in the office where can we find you?  You are likely to see me enjoying a nice meal at one of the great restaurants in Downtown/Midtown.  There are too many options to just choose one.