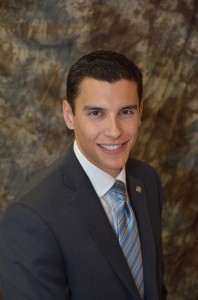 Jim Alves
Economic Development Manager
Sacramento Municipal Utility District
Metro EDGE Sponsorship Committee Vice Chair
Email Jim
Where do you currently work, how long have you been there, what do you do?
As the Economic Development Manager for the Sacramento Municipal Utility District (SMUD) for the past 3 years, I lead a team that is responsible for partnering with local and regional organizations to promote job growth in the Sacramento region.  This involves attraction, retention and expansion of businesses within SMUD's service area; development and growth of small and emerging businesses; and support of regional initiatives and advocacy efforts. I maintain relationships with key business community partners, oversee SMUD's supplier diversity program and serve on our Community Advisory Panel. I also manage the administrative budget and support external partnerships and collaboration opportunities.
Prior to that?
Prior to joining SMUD, I served as Assistant Secretary of the California Health and Human Services Agency in the Swarzenegger Administration.
What is your educational background?
I received a Bachelors of Science from Cornell University and served as the President of the College of Agriculture and Life Sciences Alumni Association from 2010-2011.
What is the best part of your job?
I most enjoy the opportunity to develop relationships with our community partners who help us every day develop innovative programs to benefit our rate paying customers and achieve our broader economic development goals.
What do you love about living here?
Although I went to college in New York and traveled internationally during that time, I returned to my hometown of Sacramento because my family lives in the area. I've since been able to watch our region grow and gentrify and now hold a newfound appreciation for the unparallel quality of life Sacramento offers young professionals and families alike.  I'm so proud of our community and can't wait to see what lies ahead.
What is one thing that might surprise people about you?
I'm an aggie!  And no, not the type that graduate from UCD, but a bonafide farm kid.  I grew up on a dairy in Galt and helped my parents around the ranch. I was an avid member of the Future Farmers of America organization in high school and regularly showed livestock at the County Fair.
When you aren't in the office where can we find you?
You can find me serving on a local non-profit board or exercising. Whether it be running, biking, swimming, yoga or weight training, I love to do something physically active every day.