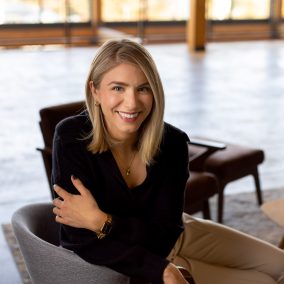 Taylor Toledo
Communications Committee Chair
Taylor Toledo is the Planning Director at 3fold Communications where she co-leads a team of managers to develop award-winning marketing solutions for healthcare, education and workforce development, and community impact organizations across the nation. She has been with the agency almost four years and previously served as the Director of Education and Workforce Development where she developed marketing and advertising strategies for community colleges, workforce development initiatives, and education-focused nonprofits and associations.
Back in 2015 she moved from San Francisco to Sacramento where she joined EDGE as a member of the Communications Committee, eager to put her fingerprints on the marketing and communications that were shaping the region and attracting the city's diverse talent. She climbed the ranks and became the Co-Chair then Chair of the committee in 2016 and 2017. After she stepped back and served on different boards, including Reading Partners (whom she connected with at EDGE's famous "Storm the Boardroom" event) and Metro EDGE's sister initiative, Inspire Giving.
In 2020 she was asked to return to Chair the program and nurture its growth into a new space, highlighting its important initiatives like Diversity, Inclusion, and Belonging and increasing member engagement and participation during the COVID-19 pandemic and shutdown.
Coming back as EDGE's first ever "two term" Chair, Taylor is looking forward to making connections with current and new members, her Leadership Council, and the communities in the Greater Sacramento region. She's energized by the people she surrounds herself with and is eager to see what the future holds for us.
Her path forward was not linear, finding out the hard way that nobody tells you what you're supposed to be when you grow up after college, or even your first "real" job. However, through many trials, connections, and pivots, Taylor has found a space she is both passionate and purposeful about: contributing to communities through education and connection.
Email Member »