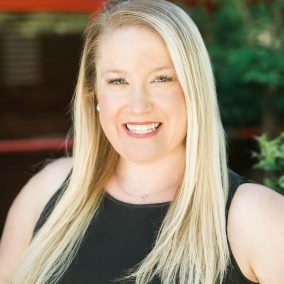 Megan Blackwell
Emerge Summit Chair
Born and raised in Oregon and attended the University of Oregon (go Ducks!), where I graduated with a degree in Business Administration with a concentration in Marketing. I moved to Sacramento in 2007, where I landed my first gig as the Director of Membership and Marketing for the California Society of Health-System Pharmacists. After a brief stint at the California Chiropractic Association, I landed my dream job at Otto Construction as the Marketing Manager.
I am a Leadership Sacramento graduate, an Inspiring Giving Board Member, and have been a part of Metro EDGE since 2010. I also serve on a local Society for Marketing Professional Services (SMPS) committee and the Sacramento Alpha Chi Omega Alumni Chapter. I recently earned my Certified Professional Services Marketer (CPSM) credentials and was named a 2017 40 Under 40 recipient.
Me and my boo just bought a place in East Sac where have a very fluffy cat named Frankie and a new rescue dog named Jax. I enjoy hitting up all the local Sacramento gems such as TEAMride, InstaPhyisque, Procity Fitness, and P20 and then ruining all my hard work by eating and drinking at one of my many favorite restaurants.
Email Member »