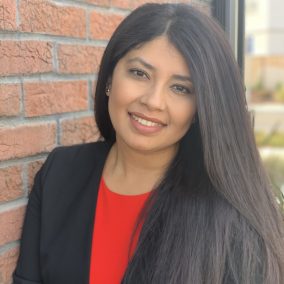 Mariana Corona Sabeniano
Empower Chair
Mariana Corona Sabeniano serves as a Chief of Staff in the California State Senate. Mariana has over thirteen years working on legislation and advancing policy on a variety of issues, including education, health, public safety, women's issues, etc. 
Mariana is actively involved in the Sacramento community. She currently serves as an appointee on the Sacramento Community Police Review Commission, the Natomas Community Planning Advisory Council, and on the Natomas Citizens Bond Oversight Committee. She enjoys giving back to her alma mater, Sacramento State, through her involvement on the Sacramento State Alumni Association, Board of Directors. Mariana also serves on the steering committee for the Sacramento Latina Leaders Network, which provides leadership development opportunities to Latina Leaders. Furthermore, Mariana's passion for civic and political engagement led her to co-found the Latinx Young Democrats of Sacramento County.
Mariana grew up in Arbuckle, California with her five siblings to immigrant parents from Mexico. Mariana is the first one in her family to attend and graduate from college. She earned her BA from Sacramento State and a Masters of Science in Law from McGeorge School of Law.
Mariana and her husband, Ranier, live in Natomas.
Email Member »