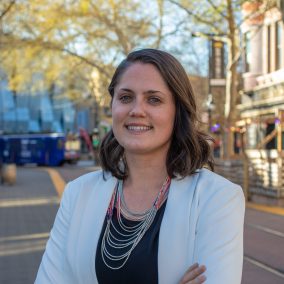 Liz Lorand
Board Development Chair
Liz became a Metro EDGE member in 2017 and has sat on a variety of committees since joining including Develop, Emerge (2020), and Empower.
During the day, Liz is the Policy Advocate at Downtown Sacramento Partnership, leading public policy, government relations, and advocacy efforts on emerging downtown and regional issues to foster a resilient and welcoming urban core. Having been the young professional on the Sacramento Metro Chamber of Commerce PAC for the past 2+ years, the cross-over has accelerated Liz's desire to positively impact regional change. Prior to joining the Downtown Partnership, Liz directed statewide regional development with the California Restaurant Association, bringing a depth of knowledge on issues affecting one of downtown's largest industries.
Although Liz is not a native to Sacramento, Liz has lived here for over 15 years and loves the energy and diversity Sacramento has to offer as it continues to unfold new elements of the city. To her, Sacramento has the little city feel with a big imagination to make things happen, nestled at the epicenter of local, statewide, and national change.
She isn't a fan of spicy food but will never pass up a good steak and potato dinner. For fun, she likes to spend her time traveling, hiking, enjoying good food and drinks with friends, and visiting her home away from home: Zurich, Switzerland.
Email Member »