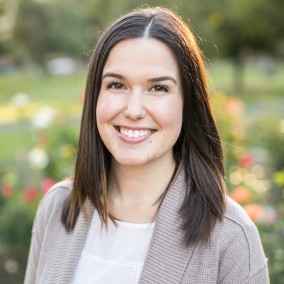 Christine Mahon
Immediate Past Chair
I'm a Sacramento super fan. This is my home, where my family roots run deep. It's where I'm proud to live, work, and play. Our region has grown tremendously over the past few years, igniting a spark that can't be ignored and shouldn't be dimmed.
That spark is part of the reason I joined Metro EDGE. Young professionals are changing the game for our community. Now more than ever, Sacramento leaders are looking to our generation to be involved in making critical decisions for the region's future. We are innovators and do­gooders, eager to leave our mark on this city now and into the future. Every young professional should take advantage of this opportunity.
During my professional career, I've worked for government agencies, public relations firms large and small and now an international corporation. I've worked to drive policy goals, communicate critical messages, and help advocate for our region. It's my passion, and I'm fortunate that I can put my professional experience to use for my position with Metro EDGE.
Email Member »