1. How has Metro EDGE helped you grow as a young professional?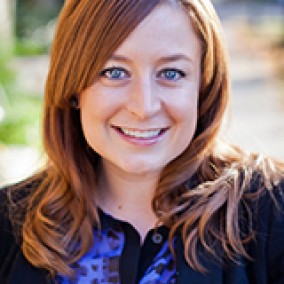 Metro EDGE gave me a purpose. I always knew I wanted to get involved in some kind of civic activity, grow my network and learn new skills but had no idea I would gain as much as I did. My experiences in Metro EDGE helped me find my personal and professional passions, in particular it provided opportunities to work alongside some of the region's top business and civic leaders. Having these exclusive mentorship opportunities helped me to learn how to best grow my career, focus my civic participation and even be a better co-worker and leader. I owe where I am, and what I'm doing today, because of the experience I gained as a member of the Metro EDGE leadership council.
2.  What would you say are your best three leadership strategies?
#1: Active Listening – It sounds so simple but it's sometimes the hardest strategy to remember. We're all rushed for time, clients, etc., if we just take the opportunity to listen, problems are solved faster – if not avoided, employees feel appreciated, and you feel less stressed. But remember, active listening means asking the right questions too!
#2: Focus on the Long-term – It's so easy to succumb to the fastest, easiest method for getting things done. But it's a trap! Without a long-term outlook, the hamster wheel takes over. You never get ahead of it, your organization becomes stale and your employees get bored. Long-term planning requires strategy, commitment and buy in – all very important areas for personal and organizational success.
#3: Reliability – If you say you're going to be there, be there. You're going to finish that project by a specific deadline? Do it. And if you can't, own it. There's nothing more stressful than trying to guess if someone is reliable. In many ways this is the same as trustworthy, but that's not a strategy – that's a core value.
3.  Who has/continues to be your mentor? What have they taught you?
When I was chair of Metro EDGE, I felt like I stepped into an alternate universe. Managing budgets, departments, events, people… it was stressful! Martha Lofgren had just finished her term as the chair of the Metro Chamber board and really took me under her wing. First and foremost, she taught me about paying it forward. She didn't have to spend the hours (and hours and hours) she did with me to make sure I understood the ins and outs, but she did – because she recognized I needed it and she had the information I needed. She recognized by making time not only did it help me, but tremendously helped the organization (Metro EDGE's budget increased nearly 150% that year). Often times when we're really busy it's easy to blow off meetings that don't seem important, or neglect to make the time to be available to someone that could benefit from your experience. But, that's when it's most important to take a step back, make the time and pay it forward.
4.  How important has it been for you to find and network with groups of young professionals?
It's incredibly important to build your network. As young professionals there's a unique opportunity to build trust – often we weren't at the stage where we necessarily needed something from the other person, we just wanted to get to know more people, in particular from outside our industry bubble. That's where Metro EDGE came in, it provided a platform for getting to know like-minded professionals without the pressure of trying to make a sale or land a client. Some of the best relationships I have today were gained during a Metro EDGE trivia night competition or the Day on the EDGE dodgeball tournament. Now several years later, we've all moved up the ladder. It's great to be able to pick up the phone because there's already a level of trust, they know I'm not calling them cold or with an issue or event they wouldn't want to be a part of.
5.  What motivates you to get out of bed and go to work?
Other than tortilla chips?! Sounds cheesy, but I want to help to make this city a better place. I'm inspired by all of the amazing things my peers are doing here and abroad, I want to contribute my part. And, hopefully as a result play a part in what makes Sacramento an incredible place to call home.