Sacramento has a NEW option to enjoy Germany's largest, authentic Oktoberfest celebration – Sactoberfest!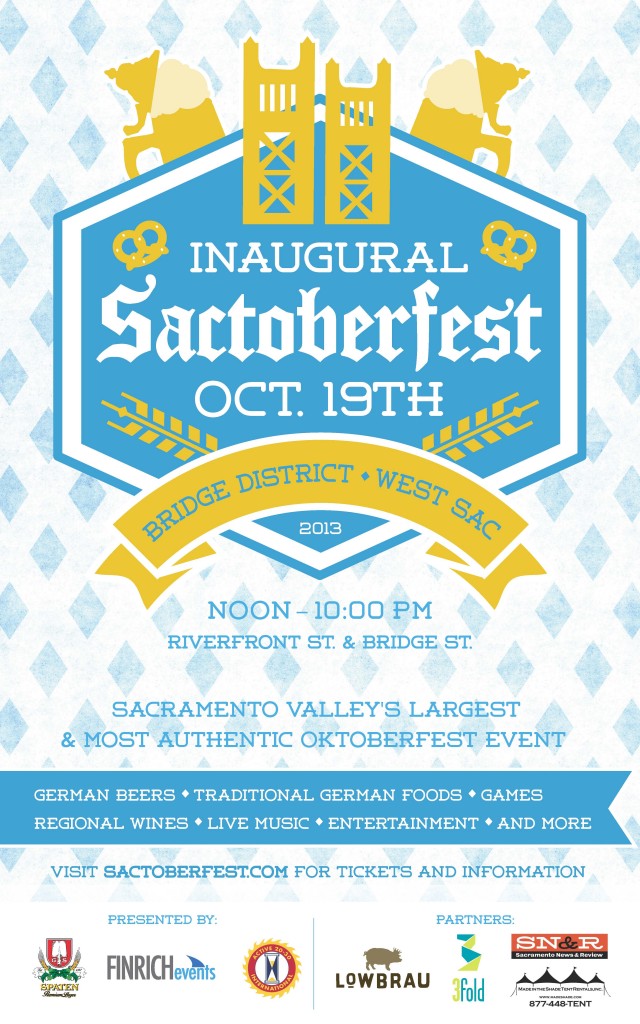 On Saturday, October 19 the inaugural Sactoberfest, a one-day celebration fashioned after one of Germany's most famous events, is coming to the Sacramento Valley with all of the premium German biers, food, music and games Oktoberfest is known for.  In true California style, Sactoberfest will also feature some of the best local Farm-to-Fork featured brews and eats under the huge Munich-style Bier tent with seating for the masses.
With so much to do at Sactoberfest, plan ahead!
Essen! Experience the delicious traditional German tastes of authentic wursts, brezels, deli items and desserts you'd expect
Prost! 1/2 Litres of authentic Oktoberfest premium biers Erdinger, Hacker-Pschorr, Hofbrau, Paulaner and Spaten will be available for $6 and Litres only $9
Tanzen! Enjoy the authentic music styling of the 20-piece brass Chico Bavarian Band, The Internationals, The Flying Dutchman and the Alpine Horns. You won't want to miss the traditional Bavarian waltz/polka dancers demonstrating their moves on the dance floor.
Speilen! Try your hand at stein holding, keg rolling and keg tossing, yodeling, wurst tossing, beer pong, and the Chicken Dance dance-off. Don't forget to dress up so you can participate in our Best Lederhosen and Dirndl Dress!
General admission tickets start at just $20 with discount code "EDGE" AND $5 of each ticket sold will directly benefit Metro EDGE.  Don't delay, buy your tickets today at www.sactoberfest.com!