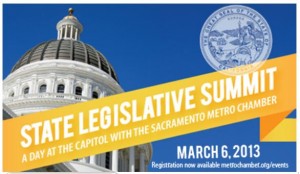 Do you have the EDGE… to get involved?
Interested in how you can make a difference in our region? Join Metro EDGE for exclusive access to the Sacramento Metro Chamber's State Legislative Summit where you'll have the opportunity to get involved and learn about ongoing policy work at the local, regional, state and federal levels.
No advocacy experience? Or, looking for the insider EDGE? New this year, the Metro Chamber will pair EDGE members with senior leadership for one-on-one mentorship during the advocacy day. We're also helping you to pick up the tab, the first 15 Metro EDGE members to register will receive $50 off registration fees*!!
The State Legislative Summit is modeled after the Metro Chamber's successful Capitol-to-Capitol federal advocacy program. The Metro Chamber applies the same strategy of regional cooperation to promote at the state level because it strongly believes that the issues at the State Capitol significantly influence the economy and quality of life of residents and employers in the six-county Sacramento region.
This half-day program concludes with the Capital Region Legislators Reception to honor the newly elected state constitutional officers and locally elected leaders from Sacramento's capital region.
2013 Issue Areas –
• Flood/Water
• Health Care
• Jobs & Business Growth
• Land Use & Natural Resources
• Transportation/Air Quality
• Workforce & Education
Summit program schedule –
10:00 a.m. Morning Panel Discussion – Sutter Club
       Panelists:   Dan Morain - Senior Editor, The Sacramento Bee
                        Mac Taylor - Legislative Analyst, Legislative Analyst's Office
                        Alan Zaremberg - President/CEO, CalChamber
11:00 a.m. Registration
11:30 a.m. Lunch & Program – Sutter Club
       Keynote Speaker: Scott Seymour - President/CEO, GenCorp
12:30 p.m. Issue Team Meetings
2:00 p.m. Appointments – State Capitol Building
5:00 p.m. Reception – Sutter Club
Not a Metro EDGE Member? Join today!
*Discount applies to active Metro EDGE members only.
Can't make the whole day? Joins us for the Capital Region Legislators Reception beginning at 5p. Register  here.