Calling all young professionals! Are you ready to blast the ballot? Or are you a little embarrassed that you haven't opened your voter booklet yet! Either way, we invite you to join us for a night full of election excitement at The California Museum!
Mix and mingle with your fellow YPs while enjoying small bites and all this great location has to offer; watch the Presidential debate; then take a seat as we explore issues specific to our region with a panel moderated by the one and only Kitty O'Neal from KFBK. Our panelists will include:
Dr. Barbara O'Connor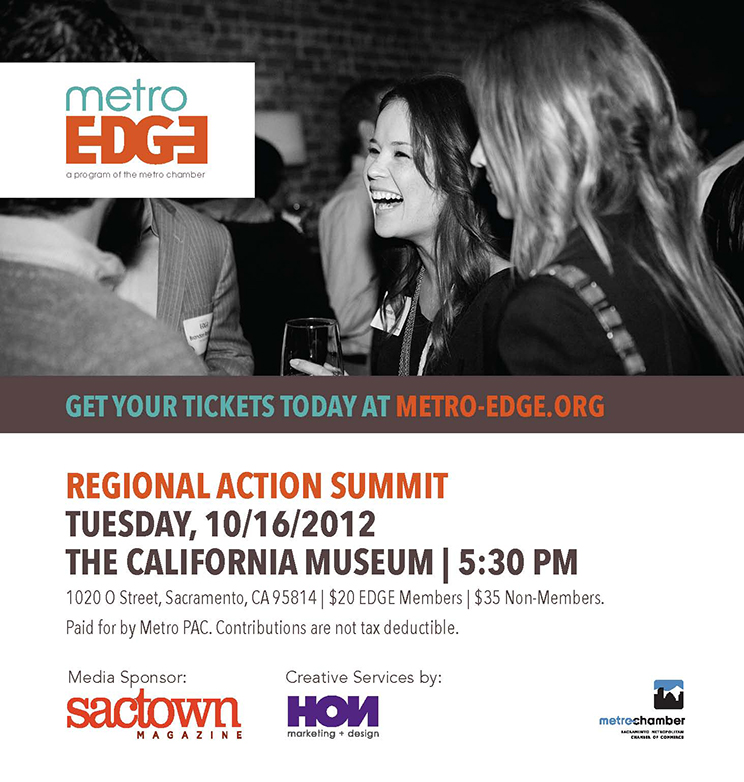 Professor Emeritus, CSU Sacramento; Former Director, Institute for the Study of Politics and Media; Board Member, AARP
Supervisor Matt Rexroad
Partner, Meridian Pacific; Yolo County Board of Supervisors
Michelle Orrock
Communications Director, National Federation of Independent Business, California
Dr. Tony Quinn
Co-author "The Target Book", former GOP redistricting consultant
Greg Lucas
California's Capitol
Bring your questions! Prepare to learn! Get that ballot homework done! And do it all while mingling at a very cool location with the rest of the region's best and brightest under 40s. It will be a one of a kind evening for sure! Don't miss it!  Register today!
Paid for by Metro PAC. Contributions are not tax deductible.
Wondering where to park?
Metered street parking and hourly parking garages are available at:
10th Street between P & O Streets
10th Street between L & K Streets
11th Street between O & P Streets
14th & P Streets