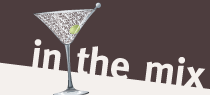 Are you inspired by Sacramento's Farm-to-Fork designation and thirsty for more information about what's transpiring in our city? Craving access to the "key players" in a casual, inviting environment?  You're in luck, because EDGE will have it all at In the Mix this month!
This September, foodies, restauranteurs, business professionals and general Farm-to-Fork enthusiasts alike will all have the unique opportunity to "mix it up" while learning about the topic in back-to-back events: Metro EDGE's In the Mix at Capital Dime on Sept. 17 and Drexel University Sacramento's Farm-to-Fork Forum at their Sacramento Campus on Sept. 18. Whether you're an EDGE member, inquiring about higher education or simply interested in the region's Farm-to-Fork movement, you're invited!
Similar to our usual In the Mix events occurring on the 3rd Tuesday of each month, EDGErs will have opportunities to expand their network and engage with the region's top young professionals. But, unique to In the Mix this month, EDGErs and Drexel guests will have the opportunity to bring all of your burning questions to Sacramento's Farm-to-Fork gurus. And, don't forget the tasty bites and happy hour specials offered by Capital Dime!
Register here (on Eventbrite) for the Combo Ticket to access both In the Mix on Sept. 17 AND Drexel's Farm-to-Fork Forum on Sept. 18
Fun fact -  Did you know that our beneficiary, The Sacramento Children's Home, was originally founded in 1867, as the Sacramento Protestant Orphan Asylum and was located in the current location of our Farm-to-Fork Mixer at Capital Dime?  Come check out this fabulous new spot and watch for our blog about the origin of The Sacramento Children's Home in October!
Due to the continuing increase in registration at the In the Mix events, non-member registration is $15, BUT that cost will be deducted from the cost of membership, if you join at the event. Or join now and avoid the hassle at the door!