You're a busy YP juggling a lot this election season, but that doesn't mean you don't have time to vote! But, you don't know enough about the candidates or the issues you say? Good thing this In the Mix is all about Getting Out the Vote!
Earlier this year, Tina Reynolds of Uptown Studios told EDGErs a piece of advice, "have a politician remember your name." With the 2014 General Election right around the corner, it's time to take her up on it! Come to October's In The Mix and get your name to the top of the list!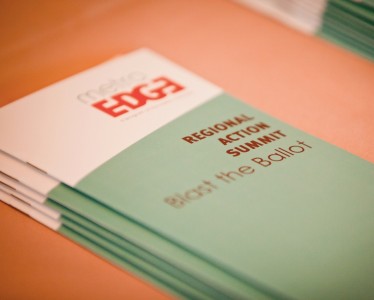 Now, we understand election season doesn't always delight the masses so this year we're doing things differently. Rather than hearing candidates formally debate their views, we're inviting you to join the race! Come to meet, greet and share your views with the local leaders who want to represent you. Featuring candidates from Council Districts to the U.S. House of Representatives as well as local ballot initiative supporters (see the growing list below), this is your chance to become an informed electorate!
Even better for the time strapped YP, if you're a Sacramento County resident, you can drop off your vote by mail ballot with the County Registrar at In the Mix.
Still a little nervous about tipping your toes into the election pool? Not to worry, just like every In the Mix, we'll have tasty bites (courtesy of Capital Dime) and of course brews flowing from one of our favorite local breweries, New Helvetia (make sure to say hi to fellow EDGEr and owner Dave). And just for us, taste the 1st place winner at the this year's Amador County Fair, Molly American Red Ale, for only $5! (And yes, being game 1 of the World Series, we'll have the game playing!)
So, look forward to expanding your network and engaging with the region's top YPs!
DON'T FORGET! The deadline to register to vote in the November 4th election is this Monday, October 20. Register to vote today!
Confirmed Attendees (updated daily):
Assembly Member Dr. Richard Pan (AD-9), Candidate for State Senate
Assembly Member Roger Dickinson (AD-7)
Rosalyn Van Buren, Steve Cohn for Assembly Campaign
Larry Carr, Candidate for Sacramento City Council, District 8
Supervisor Roberta MacGlashan, Sacramento County, District 4
Supervisor Don Saylor, Yolo County, District 2
Mayor Kerri Howell, City of Folsom
Mayor Pro Tem Mark Johannessen, City of West Sacramento
Council Member Babs Sandeen, City of West Sacramento
Council Member Sue Frost, City of Citrus Heights
Council Member Bonnie Gore, City of Roseville
Council Member Spencer Short, City of Lincoln
Leroy Tripette, Candidate for Los Rios Community College District Board of Trustees
Brian Holloway, American River Flood Control District Trustee, Candidate for Re-Election
Josh Wood, Yes on Measure L Campaign
Due to the continuing increase in registration at the In the Mix events, non-member registration is $15, BUT that cost will be deducted from the cost of membership, if you join at the event. Or join now and avoid the hassle at the door!